I am collaborating with The Bedding Company for a series of posts for their new campaign: Child Sleep Month. When you become a mother, sleep is one of the biggest issues in your life. Sleepless nights, sleepless babies, how to get them to sleep easily, longer,so on  and so forth... It is a very important subject as sleep deprivation makes everyone's difficult. I am by no means an expert but I am happy to share a couple of tips .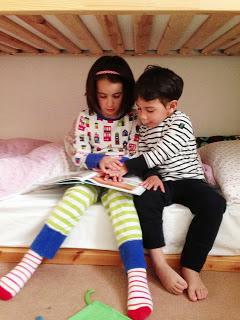 If you are a regular reader of Smiling like Sunshine, you may know that we have chosen to co-sleep with our children.I have written about why we chose it  and how the transition to their own bed happens in the past. 
In my experience, children thrive on order  and our bedtime rituals  help them go to sleep easily. 
It is important that these rituals remains the same every night because the routine helps the child understand that bedtime is approaching.
Today I would like to share five tips to get children  to bed on time.
We eat our dinner as a family around 6 pm. After that while mom and dad enjoy a cuppa, the children play or we just chat with the children about how their day was etc. Around 7 pm, they have bath, brush their teeth and then we go upstairs.

Once they wear their PJs, they start reading their books. In the meantime, I tidy up around the bedrooms and get everything ready: their water bottles, curtains, night lamps etc. If they want to play during this time, it is fine. However I do not let them to jump on the bed or run around so that they don't get too stimulated just before bedtime.

Then we start reading our bed time books. Sometimes both kids want the same books so one of us reads to both kids. Some nights, one parent reads to one child in different rooms. We limit the number of books by  three and if it is a chapter book, we usually read one chapter.

For me, it is very important that my children feel secure and happy during night time. I have never resorted to methods like controlled crying or letting the child cry until s/he falls asleep. I have always done my best to find a way to calm them down and go to sleep easily. When they were younger, it was rocking them, stroking their backs,singing lullabies etc. When they were babies, they used to nap in the sling and Derin only wanted to sleep in my arms, on my lap for a very long time. Yes, sometimes it is very difficult as you can't get anything done, but meeting the baby's needs, help them feel secure and when they get older, they don't experience any difficulty sleeping independently. Because they know that, their parents are there to help them if they need it.

So what happens if the plan fails, if the child does not fall asleep? We let Defne (6 years old) to read a book or two in her room. Derin will usually fall asleep but I remember around two years of age, he would start playing in a very concentrated manner. Although I did want him to sleep earlier,instead of fighting it,

 I would let him play until he lost his interest. Once  he had the chance to meet his needs, he would go to sleep easily. 
Thank you so much for stopping by! If you enjoyed this post, please join us on Facebook,Twitter,Pinterest and G+. Click on the buttons on the right hand side to follow us on these platforms.