Recently I decided that I really need to budget and adhere to it.  My husband and I have been married for 9 years and I think I only actually stuck to a budget during our first year. As time went on and we steadily increased our income,

my budgeting went out the window!
   With two small children and the economy in it's current state, I am 100% dedicated to get back on a budget and live a bit more frugal than we have  :)
Meal planning

was the first step I took on this journey. Thursdays have been dubbed my Thrifty Thursdays.  Today I made a simple, yet inexpensive, chicken dinner that I like to call Garlic Chicken Noodles. 
   5 ingredients

are the only requirement:
Chicken ( I use fryer chicken strips )
Egg Noodles
Olive Oil
Garlic Powder
Grated Parmesian Cheese
Boil the chicken and egg noodles in separate pots.  Drain the egg noodles.  Cut chicken into small pieces and add to the drained egg noodles.  Mix in olive oil, garlic powder and parmesian cheese to your liking.  Voila!  Very simple, inexpensive and very yummy thrify dinner. I usually add some bread and butter and a side of veggies.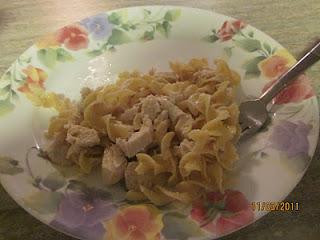 Enjoy your day!