I don't know about you but I have turned into a bit of a dress junkie and tend to wear them no matter what season we are in, with summer (occasionally) featuring bare legs and winter including a good pair of tights and a cardigan to cover up in the cold Scottish weather. When I was looking through my wardrobe and deciding what I'll be taking on holiday with me this year (yes I've been doing this a month in advance!), all I seemed to gravitate towards were light summer dresses with cute prints and very girly shapes. I have recently been really impressed with the dress selection in New Look and decided to do some good old online browsing even though my wardrobe is already bursting with dresses, so I thought why not put my favourites in a post instead of actually buying. Bank balance, you are welcome.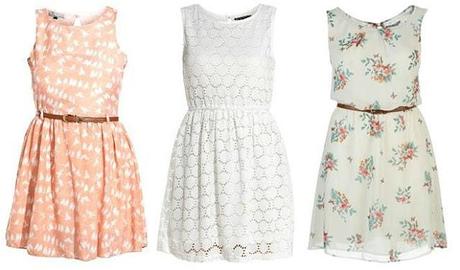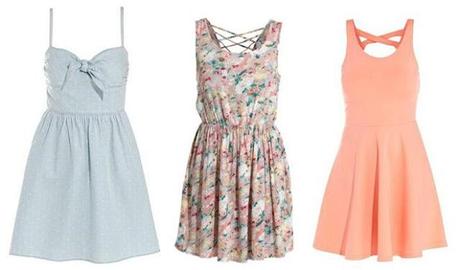 Images c/o NewLook.com
Parisian Peach Swallow Print Oval Back Skater Dress | 
Pussycat White Floral Laser Cut Dress | 
White Chiffon Floral Print Dress
Denim Spot Bow Detail Dress | 
Lattice Back Floral Print Dress | 
Coral Cross Back Skater Dress
This year I seem to find myself being drawn to anything with a girly or floral print, and also anything pastel coloured. Of course ice-cream colours and floral prints are nothing ground breaking for summer as they are trends that always seem to come back around and for good reason too as I honestly think you can go wrong with them. As someone with more of an hourglass shape, I love dresses to be drawn in at the waist with plenty of cinching courtesy of waist belts as you can probably already guess from my selection.
Will you also be wearing your fair share of dresses this summer?