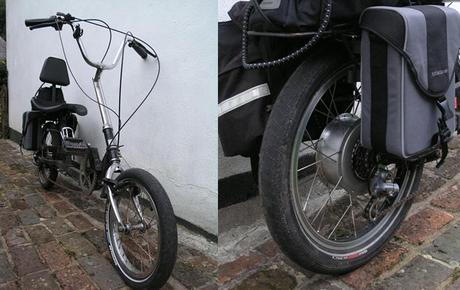 Posted by Simon Jonathan Naish Rayson
First steps
It was in 2000 that I first discovered Electric Bikes. I was living in Dorchester, having moved to town from Tolpuddle and living in a flat with no parking I had given up the car. But I was beginning to get bored with walking everywhere so thinking it would be fun I went out and bought myself a Dahon folding mountain bike from Halfords. It struck me though as I was riding the bike home from the shop that although my mind seemed to think I was fit enough to zoom along as I had when I was a teenager, my body was altogether less sure.
A week or so later, during lunchtime at work, I happened to be wandering around the internet and came across a cycling shop called Kinetics that sold kits to turn a bicycle into an electrically assisted machine. I was intrigued – perhaps this might help me. Trouble was the price for the kits was about 6 times what I'd payed for the mountain bike. It just seemed too much to pay – but one evening at home I noticed that Kinetics had a bulletin board on their site where people were selling things and lo and behold there was an electric bike kit for sale and at a decent price. I quickly contacted the vendor and we agreed the price and the cost of the postage and shortly the kit arrived.
The kit in question was manufactured by a German company called Heinzmann and it seemed the person I had bought the kit from was fluent in German as the instructions were in that language. However there were plenty of illustrations and the Kinetic website had many pictures of Heinzmann kits fitted to customers bikes.
So without too many problems and only a few bruised fingers I managed to add the kit to my bike – although not the Dahon, as I had realised that maybe carrying a mountain bike to my second storey flat with the electric kit installed might not be much fun, so I'd bought the cheapest mountain bike that Halfords sold, and had fitted the kit to that.
My first electric bike ride
The first ride was a revelation – the motor would not it seemed pull away for standstill without me pedalling as well, but once I was moving I found myself pedalling to keep up with the motor. How fast I was going I had no idea, but it certainly was fun and there was definitely a lot of wind ruffling my hair.
Over the next few month's I rode the bike to work, around town and occasionally out to the country. On one occasion I recall cycling with a couple of friends and spent a lot of time putting up with their complaints at the speed I was going (and these guys were 10 years or more younger than me), or even fending off requests for a tow.
It was on that trip that I began to wonder if the motor I had was exceptional in some way – I knew little about it after all as the documents it came with were in a language I could not read.
So with that in mind I started to pay attention to my speed when cycling along with speed of the cars going the same way as me. I seemed to be keeping up pretty well – surprisingly so!
A bit more research was required – I scoured the Heinzmann website and discovered a page listing all their bike motors – after some serious head scratching at all the technical data, I began to realize that my motor was one described as low torque but with a high RPM. This explained why it would not pull away from stand still, but was capable of propelling me along at a speed where I seemed capable of keeping up with the cars in town. It was rather exhausting though – I seemed to be having to pedal to keep up with the motor and although the speed was fun I began to wonder if I might be better off with something a bit slower but with more oomph for getting me up the hills. I had also noticed that there was a legal requirement that stated that electric bike motors could only propel the bike to a maximum of 15mph (though of course there is no set limit, apart from the rules of the road, for
how fast the bike can go down a hill or be propelled along by it's rider), my motor it seemed was capable of somewhat more than that.
Oops I thought.
The second bike
But fortune smiled upon me again – I had begun to subscribe to a magazine called AtoB and that has a classified ad's section and I spotted an advert for a Heinzmann kit for sale, one attached to a bike and described as high torque and being sold by someone in Weymouth. A few phone calls later and I was off to Weymouth. Trying out this bike with the low torque motor was again, a revelation. It pulled away from stand still without me pedalling and hadn't the slightest problem with the steep hill by the vendors house. I was in love with electric bikes all over again. Money was exchanged and the vendor even kindly offered to deliver the bike to me in Dorchester – I accepted the offer.
So a few days later I had removed the Heinzmann kit from my bike, attached the kit I'd just bought after removing it from the very nice Giant bicycle it had been installed on – it was a ladies bike and although much better than my own, I thought I ought to be riding one made for gentlemen, and anyway I knew one of my sisters was looking for a bike and she would love the sit up and beg posture with the wicker basket on the front.
Apologies for digression – and I was away.
The high torque motor was so different from that first experience of electric bikes. I did not have to keep up with it, it just propelled me along with a smooth flow of very helpful power. Hills were no problem and cycling was definitely fun.
And onwards
9 years on I still have that high torque Heinzmann motor, nowadays it's attached to a mountain bike with front suspension and I generally only use it for riding along the bridleways and forest tracks which we are blessed with here in Dorset. Off road riding with an electrically assisted bie has to be experienced to be believed – it is wonderful fun. The big grin it creates is evidence of that.
For road cycling I now have another Heinzmann motor attached to a long wheel base recumbent I found on eBay. The laid back style of the bike with the addition of the electric motor, makes for enjoyable cycling. And with my panniers attached, it is also a practical way to get the shopping.
Check out http://rumbaride.com – a couple of guys off on an epic but fun ride (thanks to Electric Motors). One of the riders was the organiser of the now sadly (temporarily) defunct Tour de Presteigne.