Social norms of this city dictate that women gain entrance into nightclubs without charge and wait in shorter or nonexistent lines. Women get drinks bought for them, dinners, flowers, designer bags, nose jobs, and sometimes cars. Los Angeles is a city run by money and contain many people with bank accounts too large for their own good.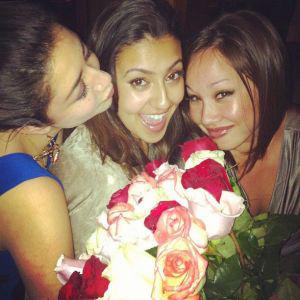 free flowers just for smiling!
From an outsider's perspective it sounds pretty awesome, right? Free stuff for doing nothing! Sharing the wealth IS a great concept, sign me up.
As a writer/blogger that likes to eat out and go to fancy gyms and wear stylish outfits, I'm pretty broke. I have to avoid shopping centers, unnecessary Groupon deals, and online shoe sales in order to keep a roof over my head and food in my cat's bowl. Thus the appeal of a free meal is high for someone of my non-trust fund status.
I'm sure that every girl that has flaunted red lipstick and shown some leg has her share of crazy proposals. Mine? Trips to Hawaii, Miami, Dallas, Big Sur, and New York, a Chanel bag, $250 cash, spa days, 7 billboards with my face on it, housing in a 15 room mansion, and a puppy are probably my top thus far. And since I have been single and unattached for a really long time, these are all from men I am not romantically involved.
Of these proposals I have only accepted one (not telling you which!). Even though I did nothing but share my time, receiving an unearned gift made me feel like a dirty pirate hooker. That is when I vowed never to be a gold-digger and to maintain a sense of dignity no matter how shiny an object dangling in front of me may be.
Although there are so many random men that can afford to bribe young women, their generosity or hidden agenda is not mine to judge. Some men really do just want to share. Others want to project an image of power to hide their insecurities. Others are bored and want attention. And still others are so accustomed to their lavish ways that life has lost perspective.
More importantly however, what is accepting these gifts saying about the receiver? It is one thing to have free things offered to you. It is quite another to accept.
I struggle to respect women that accept free stuff for the sole purpose of feeding one's ego, personal gain, feeling entitled, or laziness to rightfully earn something independently. The mentality of let's see what I can get is gross. There is a power and tremendous sense of self that comes with the phrase, "No." I may not be going to Hawaii for free next week, but at least I won't have to deal with undesired sexual passes, a sense of dependence, the discounting of my intellect, or the sacrifice of personal integrity.
What kind of woman do you want to be?
Happy Spring-time,
Cleo