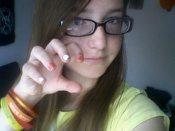 *I am re-posting this because it was 14 years ago today that my beautiful daughter, Anastasia Rose, entered mortality. She is the philosopher's stone that began transforming my lead soul into something even close to gold.*
In 1996 my then wife Rebecca and I, were living in the Rocky Mountains of Colorado.  I had converted to the Mormon Faith about a year earlier.  My conversion had been sincere and I had really given my heart to the Lord.  It was an amazing time.  However, I ran into what many converts run into in any organized religion: less committed members or even blatant hypocrites!
The Mormon Faith places great emphasis on family, which I love.  But I was so frustrated with the hypocrisy and lack of commitment by members that I did decided, in my very determined way, that I was never having children! Now, you'd have to know me well to recognize when I am speaking in my colorful and extreme Italian manner for effect and when I really mean something.  I really meant it! I went to bed, with my heart set on never bringing children into this world…which as far as I was concerned, was going to hell in a hand basket!
I went to sleep and had this dream that I can only describe as a vision: it was so incredibly vivid! In this dream, my wife and I were driving up to the duplex we lived in, in our modest little red Ford Escort. This car only had two doors.  I got out, but instead of walking our apartment door, I turned and flipped the seat forward so I could reach into the back. At this point, I was a little puzzled as to why I was doing this.  I observed.  I saw this beautiful little girl in a car seat, which was set in the middle of rear seat (I did not know it at the time, but this was just when the 'experts' where recommending putting your child in the middle of the back set).
This little girl looked to be about 18 months old.  She had almost white blonde hair.  She was playing with something, which she held in both of her hands.  As she saw me coming toward her, she thrust her hands up in the air, looking at me with piercing blue eyes and screamed "Daddy!"  My heart just melted. The love and connection I felt was overwhelming!
I woke up literally sobbing.  I was so loud I woke my wife up.  Of course, not being the least bit psychic or intuitive, she was looking at me like I'd just fallen out of a tree.  I'm sure she was thinking, "What is wrong with you now James?"
It took me about 30 seconds to compose myself to speak.  All I could say was, "I guess we're having children…"
I knew, down to my bones, that I would do anything to be with that sweet little spirit and the God had granted me the chance to see what I would be passing up if I didn't have children.  You see, I believe that Heavenly Father deals with us all as the unique beings we are.  So I might need some startling revelation because I'm such a stubborn ass, where someone else doesn't need something so extreme to put them on the right track.
For the next year I felt Anastasia (she told me her name was) around quite often, looking in on her future parents.  Being a natural Medium, I always acknowledged her, despite my fear of becoming a father.
Less then two year later my wife needed surgery, and she could not be pregnant and get the surgery. As my Bishop and I laid our hands on my wife's head, to give her a Priesthood Blessing, I could feel my daughter, in spirit form, right next to me.  I could not make out what she was saying, but I felt her urgency.
It was like she was saying, "I'm ready to come to earth Daddy!  Please, I'm ready to come.  I'm tired of waiting.  Please help Mommy get over this surgery so I can come!"
I didn't sense Anastasia around after that very much like I had before.  Less then a month later Rebecca was pregnant, which of course, I knew.  She needed more convincing, but I didn't.   When I asked why Anastasia wasn't around anymore I got the clear answer that she gone to "prepare" to come to earth; to be born.  You see, it's often been said, and is true: being born is harder than dying.  It is a significant challenge for the incarnating Soul Personality.
I might often hate my calling as public Psychic: the ridicule, the ignorance, the bigotry…but I will always be thankful to God for the chance he gave me; to see my beautiful daughter before she came to earth! I love all my children, but she was the one that awakened my soul.
Despite the fact that her mother and I are no longer together, I so appreciate her.  I know that she was supposed to come through me. Over the years, Anastasia has proven that that vivacious, energetic engagement and enthusiasm for life is alive and well!  The picture above is her "RAWR" picture.  Rawr is I love you, in dinosaur, ya know?  ;-)
Thank you Anastasia, for transforming my life for the better.  I will always love you little girl.
"Lo, children are an heritage of the Lord: and the fruit of the womb is his reward. As arrows are in the hand of a mighty man; so are children of the youth. Happy is the man that hath his quiver full of them…" Psalms 127:4-5