Don't forget the V-Day giveaway! Enter HERE!
This was the worse weekend for me. I caught like this awful bug that gave me fever, my body ached liked I was hit by a tonka truck, and whenever I swallowed it felt like someone poured a cup of sewing needles down my throat. Yeah, it was that kind of weekend. I felt the same way today, only the "needle" pain went away, and the fever steadied at 99. But now I am coughing uncontrollably. "Sigh", great way to start the Valentine's week huh?
Anyway, as the night is progressing, I am feeling a bit better. So while I was online scooping my Online Shoe Store, I decided to book dinner reservations using Open table. ( love that site). Anyway, I decided to book the reservations this time, because my hubby always arranges everything. I opted to choose Juliette's Bistro at the Omni Jacksonville. This is where I had my wedding reception. I wanted to relive our wedding night, so we will be having dinner there. I know cheesy, but I love love... and I am a sucker for it!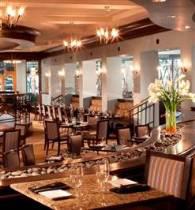 What are you plans for V-Day?
XOXO