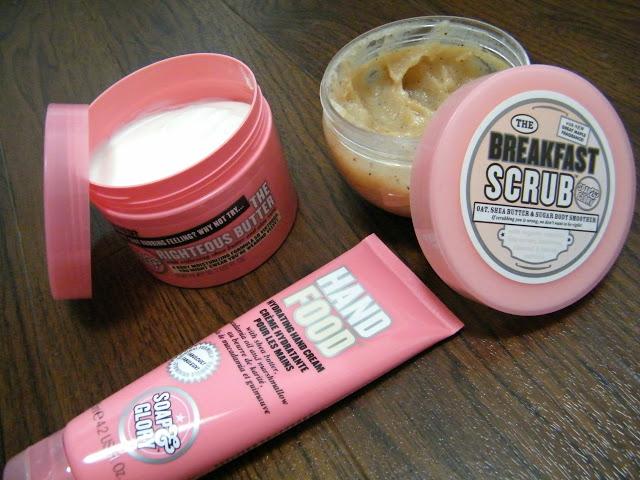 I've had a little love affair with Soap & Glory since I was in school. With their uber cute packaging and quirky little names, their products have always appealed to me. I remember getting one of their huge gift sets for Christmas a couple of years ago containing numerous full and mini size products and ever since I've been hooked. Today I'm giving you some of my favorite products from their Bath & Body range.
I'm pretty sure that The Righteous Butter was the first product that I tried from the whole brand and I'm now on to my 3rd or 4th tub. It's a body butter that's whipped and creamy texture is packed with shea butter and aloe vera to help soften the skin. You get a very generous amount in your tub that lasts you a pretty long time. I use this a couple of times a week after a bath/shower and it leaves my skin feeling silky smooth.
When I know my skin needs a good and thorough exfoliate, I always turn to The Breakfast Scrub. First off, this smells absolutely insane, like maple syrup poured all over fresh pancakes. It's so hard not to taste a bit! (Please don't, it tastes horrible). Using circular motions all over the skin, the scrub buffs away your dead and dry skin helping you achieve a soft surface without it being too rough.
The Hand Food is a product that has a firm place in my handbag, whether full or mini size. There's nothing worse than having dry, chapped and coarse feeling hands. Scented with their original 'Pink Fragrance' and a hint of marshmallow, this cream is quick to absorb, non greasy and leaves your hands feeling regenerated.
Make sure you let me know what Soap & Glory products you love & if you've tried these ones. If you read my last post I mentioned that I had a job interview on Monday and well, I got it! I was offered a place straight away which is absolutely amazing, check out the shop here - Pretty Twisted. Thanks for reading lovelies and if anyone's going to the FABB Bloggers Event in Manchester, I'll see you there!



Facebook  - Twitter - Instagram - Bloglovin