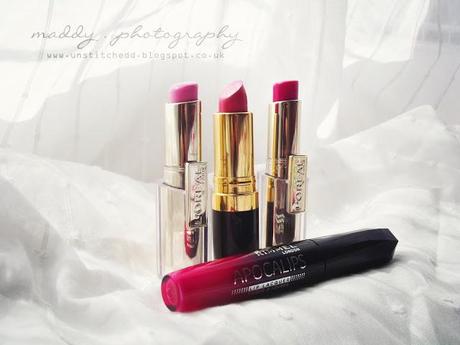 Full-blown pink obsesser, that's me. Once a color that I could take or leave, it's been slowly inching it's way back into top position of my favorite colours due to it's versatility and boldness, whilst still being the most natural of colours to wear on the lips. 
When the bold lip calls, Rimmel Apocalips in Apocaliptic, comes out to play. Opaque coverage in just one swipe and a staying power that will last well into the early hours of the morning, it's a hot fuchsia pink with just the right amount of blue, giving you the pearliest teeth you have ever seen. A word of warning about this, it can get really messy. I find that the doe-foot applicator picks up a little too much product so be sure to wipe some of this off before applying, carefully, as once dry this stuff will not budge. The 'not quite so scary' version, L'Oreal's Rouge Caresse in Impulsive Fuchsia imparts a subtle sheen of the colour, without the opaque-ness and is a kinder, more nourishing option for the lips. 
For something a little more natural, Rouge Caresse in Fashionista Pink is you're one. An almost lilac pink, very much akin to something like Snob from MAC, it's sheer, glossy and almost as nourishing as lip balm. Something you can swipe on with no mirror or 'lipstick on your teeth' worries it's a perfect pick for when you are out and about. Finally, for a more glam take on the everyday, Revlon's Lipstick in Softsilver Rose is a beautiful, you guessed it, rosy pink that hints of a bit more effort taken without being too try-hard or in your face. Lips, sorted.