Thanks for your patience. I was so sure I would have this done on Monday, but instead I had a ton of "real" work do, so they makeover had to wait.  Ia m really so excited to have this done, and I gotta say I'm way more productive in a pretty space.  Here it is, the office (and guest room)...
You will need to do several shades of one color if you want to make it monochromatic, so I painted the walls a mid tone to make coverage easier.  My base here is C2 "Mod", a pink lilac tone.  I then chose the rest of the colors and lightened and darkened my mid-tone with either white or my darkest color, a magenta. So I started laying in the design by just drawing a line. Duh, I know. But all you do is have an axis point and have several lines come off it, and then each line ends at a new axis point. Kind of like "sun rays". See how each line connects to an axis?  Just draw your first "sun"  and have all the lines have different lengths, than make those end points be a new axis. Repeat, and as you go your connections will make lots of triangles.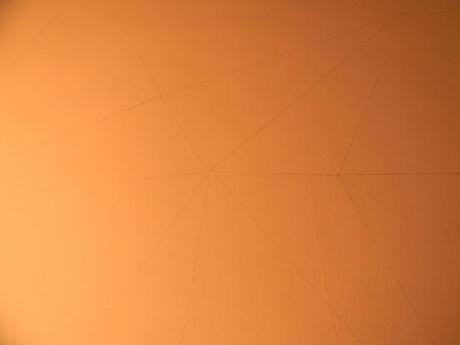 When I was finally done I decided I was going to do 9 colors. This was largely because my largest "sun" had 8 lines and I didn't want to deal with a bitting colors so I went one over.   I then numbered the sections 1-8 and "W" for white. ( sorry it is hard to see in this picture) It is kind of like playing dominos, you don't want the same number to touch. This gets confusing, so no drinking for this part!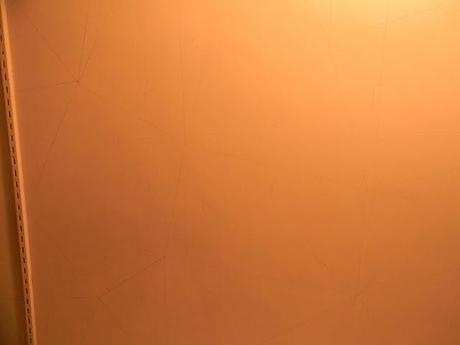 I taped out all the #8's first. They were the darkest and would require 2 coats...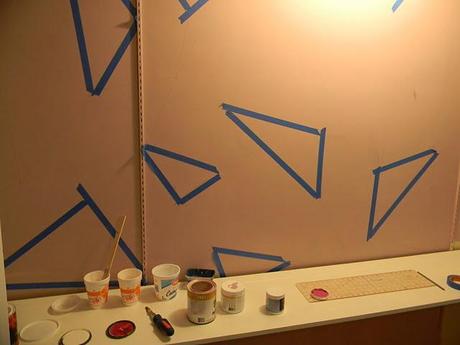 then I let dry and repeated and repeated...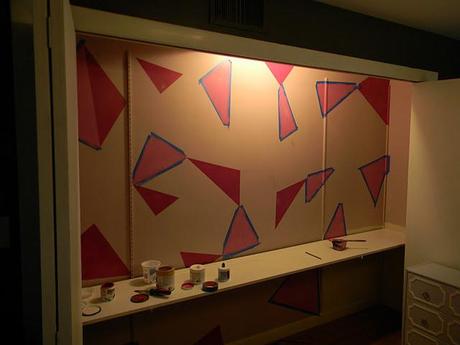 A little tip, I was able to reuse a lot of the tape. (This process uses a lot!)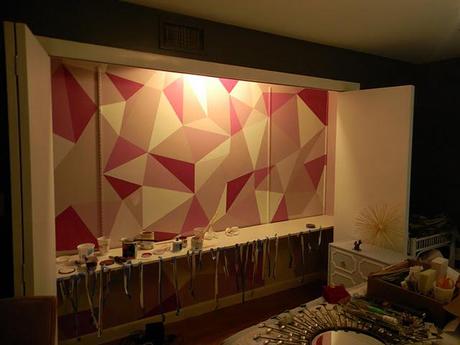 Finally, 6 hours later. My son was getting really P.O.'d. He kept coming in hourly with reminders of how long I was painting and comments like "are you ever going to be done?"  or "why do you like to paint everything Mom?" He did at one point tell me it looked cool though.