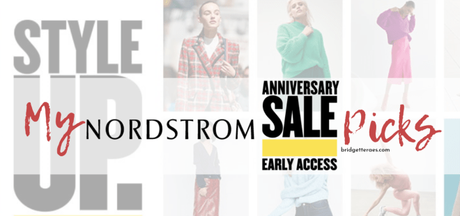 It's that time of year…sing it with me. The Nordstrom Anniversary Sale is here. It can be shopped exclusively by Nordstrom cardholders until early access ends on July 18th. After that, it is a free-for-all, and I am not using free-for-all lightly. The strategy of this sale is rather brilliant. Just as we're beginning to tire of our summer clothes,  they give an early preview of fall merchandise with tremendous discounts.  All this newness on sale can get deliciously overwhelming, causing even the best of shoppers to make mistakes.
Shopping Tips and Nordstrom Anniversary Sale Picks
In addition to my Nordstrom Anniversary Sale picks, every year, I break out my shopping tips that are peppered throughout my picks. It's always good to get a refresher, especially during the mother of all sales. If you are looking for more tips, I have also linked to some standout relevant posts on shopping and wardrobe building as well.
Tip #1 What's missing?
Don't hit the Nordstrom Anniversary Sale blind, go in with a plan.  Start by thinking about what you felt was missing from your wardrobe last fall.  What did you reach for or perhaps say, "If I only had <blank> I'd have a great outfit."  Another way to assess your needs is to look for the orphans in your wardrobe.  Think about what you can add to these pieces to create complete looks.  Lastly, do you have versatile items in your wardrobe that you want to style multiple ways?  What can you add to your wardrobe to get more use from these staples?
Suggested Post: Buying Clothes with a Wardrobe Mentality

Turn on your JavaScript to view content
Tip #2 What did you wear the most?
What did you wear most often last fall? Often we get surprised by unexpected workhorses.  Presence these items as a way to get clear on what you really need versus what you want.  You don't necessarily want to duplicate these workhorses, but, instead, see these pieces a guide for what types of clothes you should be adding.
Suggested Post: When to Keep Duplicate Items in Your Closet

Turn on your JavaScript to view content

Turn on your JavaScript to view content
Tip #3 What did you wear the least or not at all?
What about the things that you bought that quickly got lost in the back of the closet?  Instead of ignoring these things out of guilt, use these never or hardly worn pieces to guide you in what to pass up during the Nordstrom Anniversary Sale.  Failures can often be just as helpful as successes in helping you establish your needs.  Don't get wooed by sale prices and buy simply for the sake of getting something on the cheap.  You risk repeating mistakes and wasting money, not saving it.
Suggested Post: Shopping for Clothes: Why You Don't Succeed When You Shop

Turn on your JavaScript to view content
Tip #4 What needs to be replaced?
There are some things I love so much that when they wear out I will purchase them again.  It doesn't have to be the exact same replacement, but something close.  For example, once my cognac boots or navy blazer wear out I will most definitely be replacing them.  Look at things you have worn for several years that might be showing some signs of wear and tear and consider using the Nordstrom Anniversary Sale to replace them.
Suggested Post: When Practical Fashion isn't Practical

Turn on your JavaScript to view content
Tip #5 What are your goals for the upcoming year?
What are your goals for the upcoming year?  Do you plan on getting a new job or a promotion?  Has dating become a priority?  Have you taken up any hobbies or have serious plans to start?  Be careful with this tip, you don't want to wishful wardrobe, you want to be realistic.  Make sure you have put some plans in motion for these goals to avoid being unrealistic.
Suggested Post: Five Secrets of a Well Dressed Woman

Turn on your JavaScript to view content
Tip #6 Look at your life realistically
Just as with goals and future plans, it is smart to look at the current life you are living realistically.  You want to love what you buy, but be sure to shop with passionate realism.  How many times have you gotten caught up in a gorgeous pair of shoes and bought them on passion alone without being realistic only to then spend months (maybe years) staring at them because your life just never called for shoes like that?  Yes, get excited, but not so excited that reason and logic get ignored.
Suggested Post: What to Do When Your Life is More Basic than the Clothes You Love.

Turn on your JavaScript to view content
Tip #7 Add to cart, walk away, come back
Allow yourself to get excited about all the fabulous things on sale and even add all of it to your cart, even if it exceeds your budget and needs.  Walk away with the cart full and come back at least an hour later to go through it again.  Have your spending budget in mind, your plan with your needs and goals laid out, and use this information as your guide in helping you edit down your cart.
Suggested Post: Fashion Needs and Fashion Wants: How to Tell the Difference

Turn on your JavaScript to view content
Tip #8 Don't duplicate
Sometimes it is smart to have multiples of one thing and only you will know how many is too many.  However, when sales roll around, like the Nordstrom Anniversary Sale, we can get itchy to spend money and buy more of what we already own because they are safe bets.  What we wind up doing is splitting our wears and with every additional similar item we buy, what we already own loses value because the need to wear this piece is now spread out over more of the same thing.
Suggested Post: How to Update Your Wardrobe When You Already Have a Closet Full of Clothing You Love

Turn on your JavaScript to view content
Tip #9 Order multiple sizes
If you plan on shopping the Nordstrom Anniversary Sale at the stores or online, grab multiple sizes to try on unless you know the product so well you know exactly what size you wear.  Either drag extra into the dressing room or order several sizes and return.  Rare is it that I don't take several sizes into the dressing room for my clients.
Sure, sending back the rejects may be a pain in the butt when ordering online.  But you know what is worse?  Ordering one size, having it not fit, sending it back and ordering a new size to test out. And do you know what is worse than that? Having the size you need be sold out. Merchandise during this sale disappears faster than a convict going off the grid.
Suggested Post: What Having Nothing to Wear is Trying to Tell You

Turn on your JavaScript to view content
#10 Create Outfits with Your Purchases
There are two ways to go about this.  If you don't want to commit to anything before being sure you need it, take the contenders and create potential outfits using what you own.  I always try to come up with three to five different looks with clients using a new piece.  Alternatively, you can make purchases, get them home and create outfits that way.  The more outfits you can create the better the chances of keeping what you bought.
Suggested Post: Helping a Client Build a Work Wardrobe Capsule

Turn on your JavaScript to view content
Shopping Doesn't Solve Everything
Enjoy the Nordstrom Anniversary Sale, but always keep in mind, shopping will solve some problems, not all. During the hyped up time of sale shopping, it can get all too easy to get swept up in it all and lose all sense of responsibility, especially if you suffer from a shopping addiction. So, I will finish by saying, please shop responsibly. Doing so doesn't diminish the enjoyment of the sale. In fact, it makes it even better. Even if you don't suffer from a shopping addiction, check out this post for helpful tips to avoid going overboard, Retail Therapy or Extensive Therapy? How to Know When Shopping Won't Solve It.
Do you have any tips for shopping the Nordstrom Anniversary Sale? Share them below.