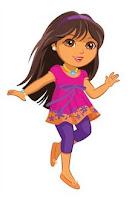 A child creates a world of its own, weaving every person with whom it comes into contact.
I understood this maxim when my three-year-old niece visited me from Bathinda. Before her visit, I was oblivious of the world of a child's love and the attachment it creates.
The day she arrived, it was another very hot day of June in Chandigarh. As soon as she entered our home, the cool air-conditioned atmosphere produced an enormous amount of elation on her tiny little face. Her sharp features became more appealing by the rain of respite brought by the cool air.
She settled on the sofa, as her little curious eyes revolved to inspect her to be new abode of  few days.
As the days passed on her cute and innocent talks in her Punjabi made me to laugh incessantly. Though I too belong to Punjab but I had never met a child speaking so well in Punjabi.
Every time her loud and crisp calling for me in the form of, "Bade Mamu" was enough to amuse me as I searched around my flat for her, as she played hide and seek with me, trying to hide behind the curtains and then suddenly trying to give me a loud thump on my back and on seeing me startled pearls of laughter issued from her.
One day I sat in front of her on the bed while she lay enjoying her little feed of milk from her milk bottle. She suddenly rose and pushed me aside as I was obstructing the flow of air from the cooler to her. Then as I got aside, she left a sigh of relief accompanied by an innocent smile.
Then one day I took her to bank on my bike. As it was hot small beads of sweat emerged on her face and neck. As soon as we entered the air conditioned environment of the bank she was filled with joy and said,

 

"Bade Mamu ethe pasina nahi aa rahiya." ( I am not perspiring here.)
It produced the result of sending the whole bank into laughter at her innocence.
Now as she has returned to Bathinda, my mother and I usually reminisce about her little innocent and funny talks. And both of us are looking forward to her next visit which we want to desperately come soon.