Check
THIS
out! 

It's a USB powered pole dancer!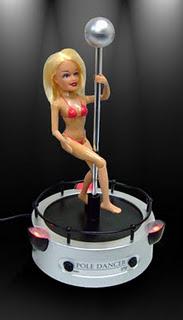 Isn't that the coolest thing you've ever seen? If you're just sitting around at the at the station, your office … or at home and you're kind of bored and not much is going on you can just plug this in and crank up the music. She's lit up as though she was in a proper club. Apparently. You can even plug her into your PC audio outlet and she'll dance to your own MP3s and other downloads.

I would think "You Shook Me All Night Long" by AC/DC would be a good choice. I'm pretty sure that at some strip club, somewhere in this country there is a girl dancing to that song right now.
That would provide hours of entertainment. It's a bit expensive though, but the hottest strippers always are.