I lost 2 1/4lb this week, so I'm on track to be at my goal in 6 weeks!! I always want more weight loss, quicker, but I know that 2lb a week is a healthy rate of  loss.
I'm happy!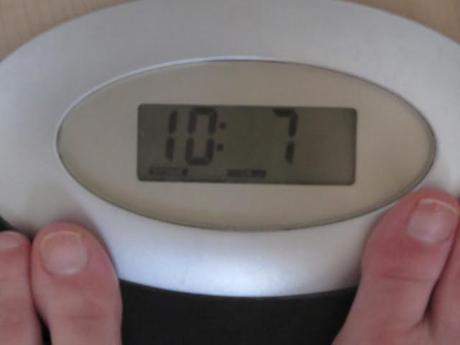 (Sorry about the toe nails, again. At least I removed the old varnish!)
This week has been very hectic, so I haven't had a lot of time to think about what I've been eating. I've just tried to stick to a few rules.
No snacking. Basically I've just stuck to my 3 meals a day.
Eating fruit and vegetables with my meals.
Having smaller portions.
Swapped my milk to1% (that purple lid one).
Bought small loaves of bread, instead of big ones.
No alcohol
LOADS OF SOUP.
I'd really love to be telling you that I've been making my own, but in reference to the 'hectic' mentioned above, I've just not had time. Good old Heinz has seen me through a week of lunches, filling and healthy, love it.
I really appreciated all your support and understanding when I did the first post last week. Thank you.
                                                                                            K