Hey everyone!
I recently have been trying out a few products from Collection, and im really, REALLY impressed. Normally, if you pay £2.99, you should expect something a bit less quality than that of a more high end brand, but that simply is not the case, not anymore, thanks to Collection!
the first product i used was the new 'Cover and Go' foundation and concealer.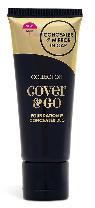 There are 6 shades to choose from, mines was the lightest one. Twist off the cap to use the foundation, or flip open the lid to use the concealer. ITS LIKE MAGIC! The coverage is medium, very buildable, and has a glowy finish. I wore this for a night out, and it lasted all night, and stayed even. For £5.99 this is a bargain!
Next up, is the work the color eye trio!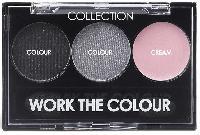 The palette consists of three colours – 2 shimmer colours and one cream color. The cream color was my first experiment. I applied it and let it sit for 2 hours to see how it coped throughout the day and guess what? NO CREASES! NO… FLAMING…CREASES!! Considering I notice creases from some high end products, this was really something I was excited by! My next experiment was a black and silver smokey eye which went down a storm! The colours are super pigmented, meaning the color is strong. They lasted all night and they didn't flake all over my face which is a huge bonus. Guess how much these cost? £3.19! that's cheaper than a glass of wine! There are eight different palettes available.
I also had a go at using the lip stain!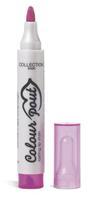 The lipstain smells AMAZING! i kept putting it on just so i could smell it, it smells fruity and like aaahhhh! for want of a better word! there are 6 different shades to choose from and they all last really well! after 4 hours i still had mine on. The color is buildable and you can make it as bold as you like or as subtle as you like! i love the pen because it makes me feel like im drawing with a felt tip pen. JOY!
Anyways, now you know how much i love the products, we all know you want them. So, to buy all of these products, head on over to www.collectioncosmetics.co.uk
xxx