I'm excited to announce the publication of my new YA/MG fantasy novel, The Hundred: Fall of the Wents!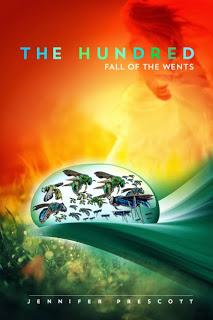 Best for ages 10 and up, the book takes readers on an epic journey into a future where humans no longer exist. 

Evolution has produced a host of wondrous and intelligent beings: shape-shifting Fantastic Grouts with globes of light atop their skulls; creatures descended from flowers; and massive swarms of bees that can bore perfect holes through metal or bone. 
But some seek a way to bring the humans back into the world—a world filled with creatures like twelve-year-old Tully, a young, amphibious Eft who imagines humans as nothing more than old bones and fairy stories. When his beloved guardian is stolen by a menacing black shadow, Tully must embark on a journey to a cruel, northern land to save her and his entire species. In an adventure that blends time travel, magic, and science, Tully learns whom he can trust, and who will betray him—for the price of reawakening the Hundred.

It's already received a positive response on Amazon, but the most amazing reward for me are the early and personal notes from parents. Among them:
"

In the future please consider publishing your books during school vacation. I had to wrestle the Kindle from my daughter's grasp 1 hour and 5 reminders past her bedtime. If her grades suffer it is on your head!"
"My daughter and I just read the first chapter of your book...hooked! It's brilliant!"
"Your descriptive writing made the book SO GOOD! The plot really held her attention, and that is something that is sometimes lacking in YA fantasy books!"
You can find the book here on Amazon:
Print version
Kindle version
Add it to your Goodreads "to read" list!

(Are you a blogger who is interested in reviewing a copy? Email me at jennyphresh (at) yahoo (dot) com.)

Please let me know what you think, and spread the word to any young (and old) readers you know. Thank you for all your support. My next blog post will tell the story of how this book came to be.