Sponsored Review 
Since my last visit to the salon, my hair has since been in a state of dismay. My roots have grown out to a disgusting 3 inches and looks both limp and dull despite my best efforts in hair care. Thankfully, I was lucky for The Comb Studio (Previously known as Rise Salon) to extend a helping hand to salvage the hot mess that is my crowning glory.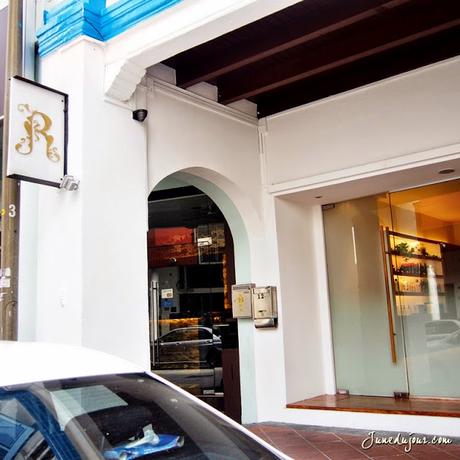 The Comb Studio is located in a little corner of Genmill Street, which is a mere 5 minutes walk from Telok Ayer MRT station. Warm, inviting with stylishly decor, I met with Henry who would be my compatriot in the quest to pretty looking hair. I couldn't help but notice his uncanny resemblance to Taiwan idol He Jun Xiang! Anyways, fangirling aside, my request was simple: I wanted a natural, toulsed waves.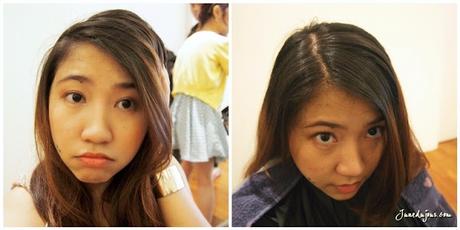 The interior of the salon is simple, clean and typically Japanese-minimalist.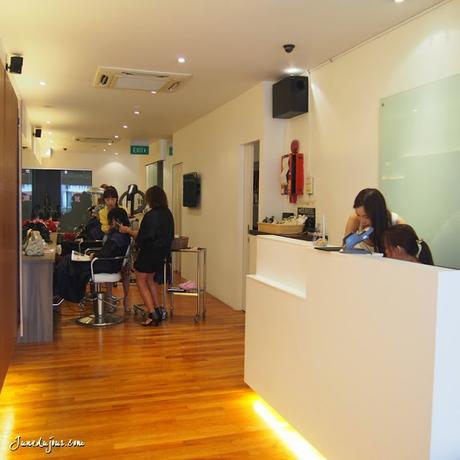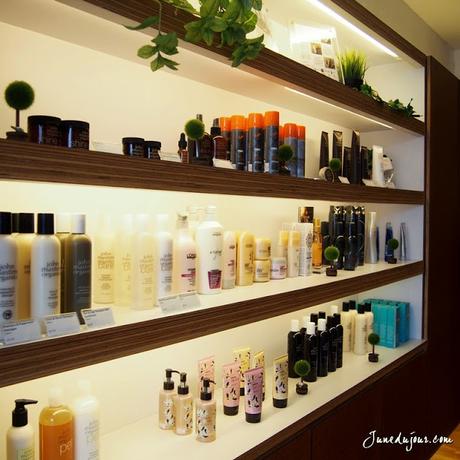 The Dye Job


But before we began, I decided to top up and pay to have my roots touched up. My previous hair color which was red had faded off nicely to a light brown, and I was rather impressed that just by looking, that Henry was able to mix two colors to accurately match my existing shade.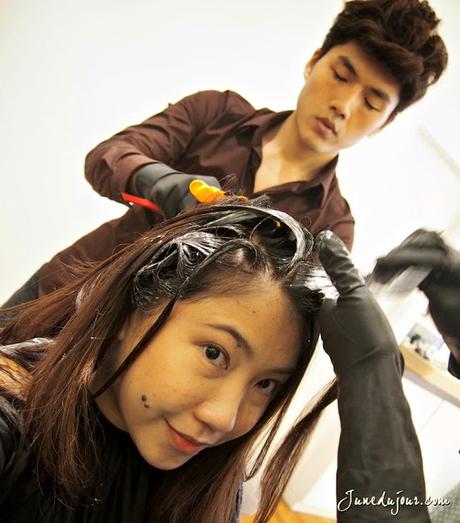 The Comb uses Loreal and Shisedo colors, and usually focuses on neutral darker shades to suit its current crowd but will venture to bolder colors in view of the season. 
I then had a shampoo down, wash  followed by conditioning and treatment used is 'John Masters' Brand- a highly popular organic solution from the states.


I was actually rushing off to attend the Samsung Fashion Steps Out event at this point, so I had to postpone the actual perm. Nonetheless, Henry got down to getting curling my hair in big loose curls like how I like it. I felt like a princess as I drifted off to my event, looking forward to the actual perming process.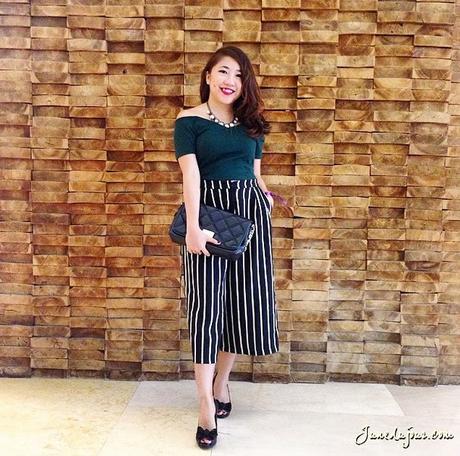 Perming Process


A few days later, I went back to The Comb to get down to the perm. Henry greeted me warmly again and I was served a nice warm cup of TWG tea after he realised I had a dry persistent cough (how thoughful!)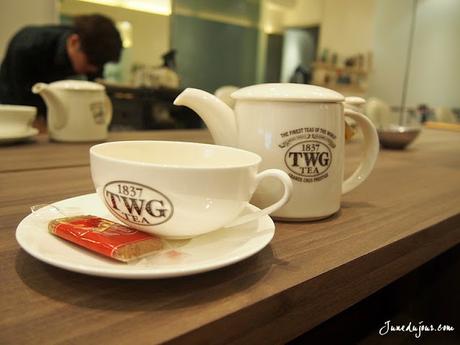 He began by using medium-large curlers, my hair was segregated into a few sections before wrapping a piece of fabric and a piece of spongy material before securing it with a rubber band. This will later be vital in soaking up the chemical agent, and also to prevent any harsh tie-marks caused by the rubber bands.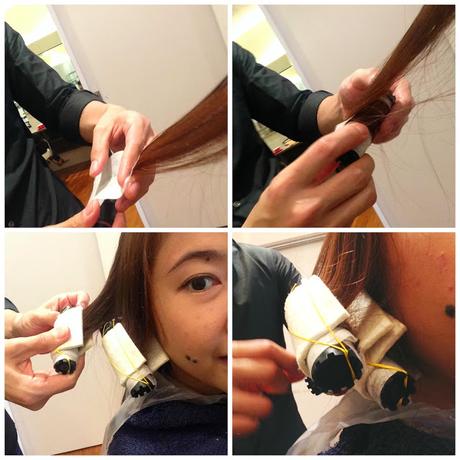 When I saw the heating machine, I though it looked futuristic and kind of interesting, as it looked vastly different from the usual conical types that we are used to seeing. Basically, each of the curlers has a socket that the machine plugs into, which causes the curlers to heat up accordingly.This allows better control and thorough results since the heat distribution is equal. And it was surprising fast, taking about only 45mins to 1 hour before the heating machine was removed.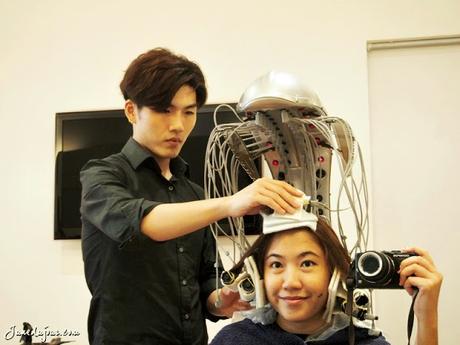 Closer look of the curlers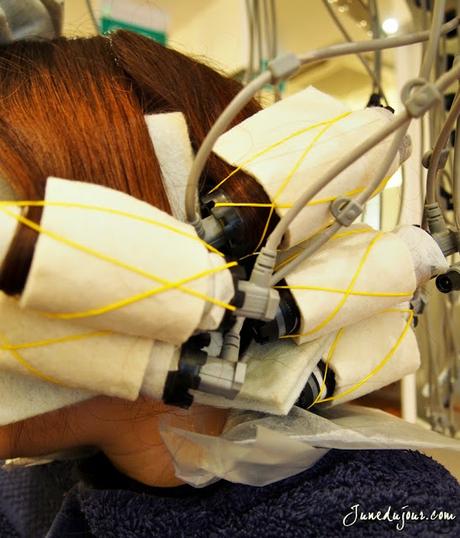 After the heating was done, the plug were removed and Henry used a chemical agent to drip all over the curlers, which is to help the curls keep its shape longer. The wet curlers are then made to sit for about 30 mins or so before they are finally removed to be blown dry.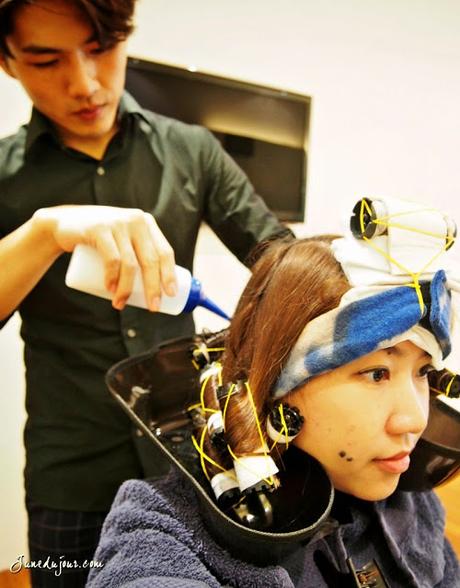 As an after treatment after my hair was done, Henry also smoothed on some Morrocan Oil and Shiseido Powder Shake to add an extra layer of moisturization and give it some subtle natural volume as my hair was blown dry. Only the best used!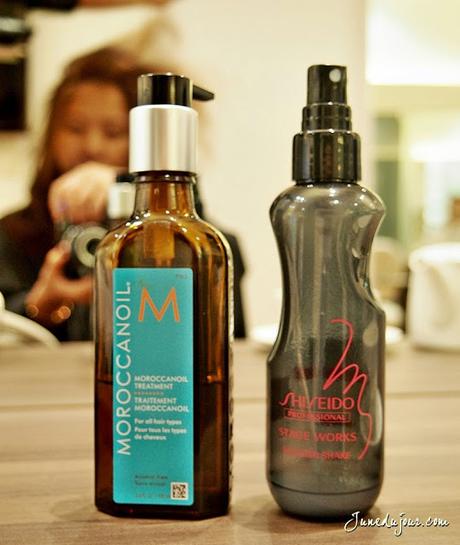 And yes, it was just how I envisioned it! Lazy sexy, I-just-woke-up and looked fabulous kind of soft curls. I love especially how the curls start from my chin, which has a slimming effect to my round face.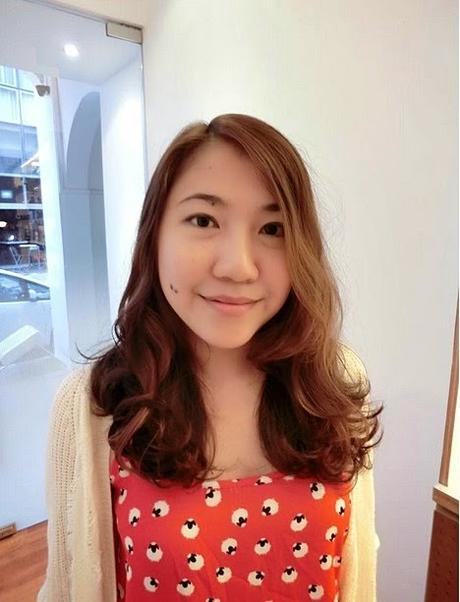 Here is the back view: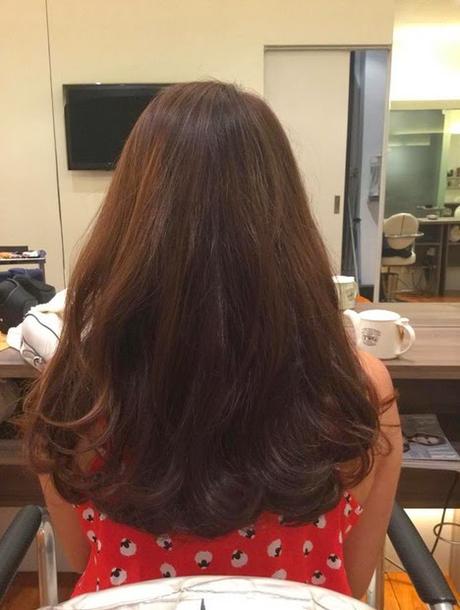 In natural lighting, the colors look vivid, and when ruffled it gives a lovely cascading effect. I think I look the best as I'd ever been.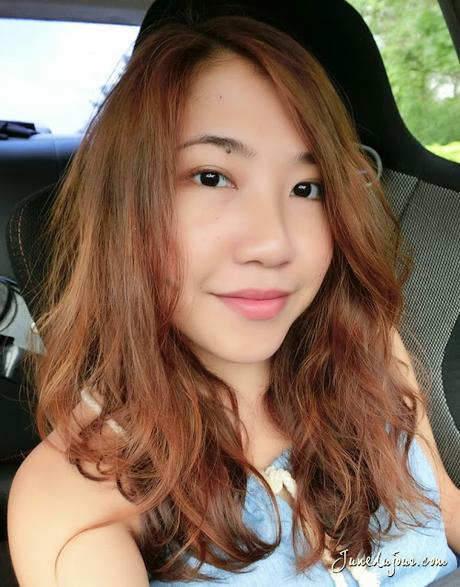 Psst, I totally recommend Henry for his very attentive demeanor (he actually noticed that I was cold and coughing abit, and immediately re-adjusted the temperature. The Comb is just a 5 minute walk from Telok Ayer Station, and is also easily accessible if you are coming from Raffles Place or Chinatown.


As part of its grand opening, stand to enjoy the following special rates for any of the mentioned hair services!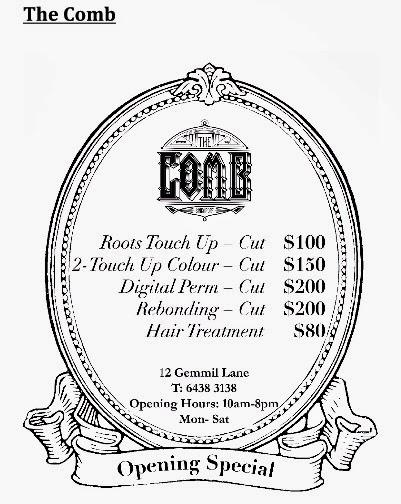 A big thank you to The Comb Hair Studio for giving me the dream hair I always wanted!
For more exciting updates of their upcoming promotions and looks, do give them a follow below:
Website: http://thecomb.com.sg/
Facebook: https://www.facebook.com/pages/The-Comb-Hair-Studio