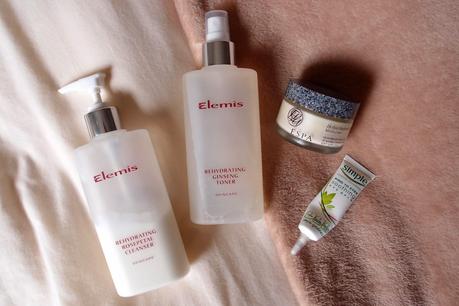 My skin has been a roller coaster of problems over the last few years. I've gone from having lots of congestion, to none at all. Then from having very dry skin to quite normal skin. It's been very confusing and has also meant I've had to often change routine and the products that I use. However lately my skin seems to have settled, and although I've still got a few problematic areas, my skin type has remained the same. It's dry/dehydrated and I have a few breakouts on my chin, which is a sign of a hormonal imbalance.
The routine I have at the moment is based on rehydrating my skin as the cold weather is having an effect, and making my skin very dry. I'm trying to drink 2 litres of water a day which is making the appearance of my skin much better.
Todays post is my morning skincare routine, it's a very quick and simple routine as I like to be as quick as I can getting ready in the morning.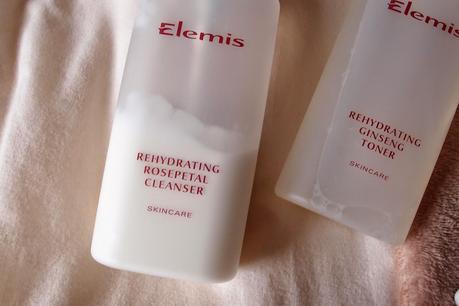 01. Elemis Rehydrating Rosepetal Cleanser (£22 for 200ml)First of all I take 1 pump of this and massage it all over my face, I then remove any excess with a damp cotton pad. I don't like to wash this of as such as my face isn't really dirty when I wake up. This cleanser has a nice refreshing scent and is super gentle on my skin.
02. Elemis Rehydrating Ginseng Toner (£22 for 200ml)Next, I use the amazing Elemis rehydrating toner and spritz 2 pumps on my face. I prefer spritzing it onto my face rather than using a cotton pad as it's a nice refreshing feeling in the morning. Like the cleanser, the scent is really refreshing and it's also kind to the skin as it contains a Sweet Betty Flower, which is a natural toning ingredient. 
Both of the above products create a great base for make-up and help to rehydrate my skin all day long. Read a full review on both of them here.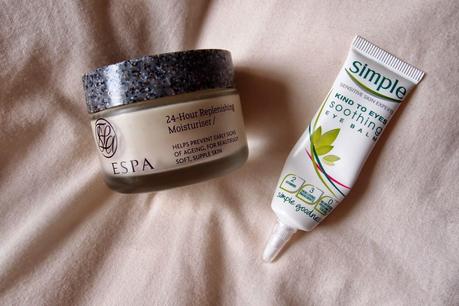 03. ESPA 24hr Replenishing Moisturiser (£42 for 55ml)This is my daily moisturiser, I apply a small amount of this all over my face avoiding my eye area. It creates a great base for make-up and helps to keep my skin hydrated. I use a teeny tiny amount of this as it does have a very thick and creamy consistency, it's great to use in the Winter months but in the Summer I prefer something lighter. The dry patches on my face instantly absorb this product preventing my make-up from clinging to the dry areas. 
04. Simple Eye Balm (£3.66 for 15ml)I apply a rice grain sized amount of this to each eye, simply by dotting it around my eye socket then smoothing it in. It really helps my eyes to feel brightened and hydrated. As the brand name says this is a very simple product. I think of it as a glass of water for my eyes, it's refreshing & hydrating and is also lightweight.