It has been a moment since I have lasted posted, right? Just a lack of getting my butt back into blogging. I figured today would make a good day to blog about my month of May. It was very interesting and full of surprises! Let's get going:
My 26th birthday: I did, indeed, have my birthday at the beginning of May. It was nothing special. Received some birthday cards in the mail and gifts from my dad, brother, and even my long-time friend from school! Dad kept it simple by getting me another cactus plant, a succulent plant, and a card with $50. We also did a seafood meal at home. It's so much cheaper to cook at home. My brother came over the evening of my birthday with a surprise Oreo ice cream cake and a birthday bag! Inside was a Sailor Moon shirt and Funko Pop! figure. I had both shirt and figure so I took them to Hot Topic and swapped it out for a Dragonball Z "It's Over 9000!" shirt and a Tuxedo Mask Pop! figure. He also got me some Zelda: Skyward Sword socks, WWE Video's "Straight Outta Dudleyville: The Legacy of the Dudley Boyz" 3-disc DVD, and a Sailor Moon drink cup. With the money Dad gave me, I ended up scoring the entire Sailor Moon Pop! figure collection at Hot Topic (minus Sailor Mars because they did not have any in stock) and some more WWE Pop! figures at GameStop. Both places had deals on Pop! figures and I also had a $10 off coupon for Hot Topic so I only had to pay in an extra $10 of my own money for all of them.
Now that since I am older, my grandma (Dad's side), doesn't normally send money with cards after 25. I did, however, call her up two weeks before my birthday and asked if she could send me some boxes of Drake's Crispy Fry Mix. That is a nice batter mix that is made in Michigan and I just cannot find any batter mixes out here in Wyoming that compare. I was so excited to get it in the mail. As soon as I did, I make some killer chicken strips! My long-time friend, who I met through her sister back in middle school, had a birthday a couple week prior to mine and since I sent her some birthday goodies (I sent her a box full of older Wiccan books I no longer was in need of ), she returned the same to me! She sent me a New York shot glass, a Wiccan herb grinder, and two kitchen witch books. If you know me enough, you will know that I love to collect shot glasses from different places. Also, the two book she sent me were ones I kept debating on getting for myself sooner or later.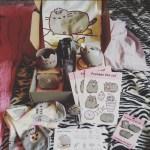 Pusheen Box Spring 2016 Box: Who can hate Pusheen? I mean, she is the cutest cartoon tabby cat you will ever see! I have been a subscription member to Pusheen Box since before it launched. It is a quarterly box that sends you a bunch of, mostly, exclusive Pusheen items. The first box was amazing. The link to my Instagram photo of the winter box is right here. The spring box? Just as freaking adorable! Look at the apron! I also received an umbrella (which I needed that weekend), some socks, a mini planter (being used to hold my kabuki brush and makeup sponge right now), more stickers, pins, cookie cutter, key cap, and a vinyl baker Pusheen figure. I pay $43.95 + $6 shipping so I am getting double my money's worth each time. This baby came at the end of the first week.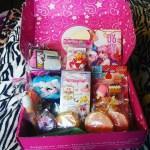 May Doki Doki Crate: I have been also giving Doki Doki Crate a few month try. It started when I did Japan Crate (a monthly Japanese snack subscription whereas their sister crate, Doki Doki, is for kawaii goodies) for a free month trial. I tried it out in March and April and the theme of the March crate was bento box and the April crate was Japanese arcade. I cannot remember what exactly was in it again besides the plush alpaca keychain and a Totoro-looking drawstring pouch. May's theme was sweet deco. This one contained some Hoppe-chan stickers and a deco keychain (which already fell off my purse somewhere along with the doughnut keychain I got in the same box). I like the pens they have been sending me because they are a fine point. It also came with cute food-shaped erasers, a mini keychain mirror, an exclusive Doki Doki plush, and even a Sailor Moon Crystal Re-ment figure. This crate was okay and am hoping that June's crate will be better because the theme for it is Harajuku!
Finding more money at work: If you watch me on Instagram, you will know I have this awesome luck with finding money at work. Seriously, how can people not count their $20s before leaving the ATM? This time, I find a $20 in the slot in the ATM as soon as I walked in do to my shift…on Friday the 13th! I shared it with my co-worker.
A video posted by [ J e s s / R a v e n ] (@neodestati) on May 10, 2016 at 8:15pm PDT
Winning a giveaway on Instagram: To add to the month, I happened to win one of three makeup goodie boxes from the WWE Makeup Divas on their Instagram account! I was very happy to win because when I was drawn, it was on a very crappy day at work and it just made it better. I was drawn by the WWE Women's Champion, Charlotte! I was just so happy to feel recognised from the ladies and that they would give back to their followers that support them. If you want to see what I received from them, the link to the Instagram photo is right here. I don't want to add too many photos so I do not overload my page because it could cause some slow loading time. All I can say is that everything was higher-end makeup and accessories that value in around the $100 area from my quick research.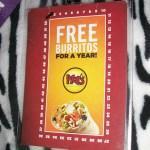 Free burritos for a year: And what a way to end my May by winning free burritos once a week for the next year! How did this one happen? Well, there was a grand opening for both Moe's Southwest Grill and Schlotzsky's (featuring Cinnabon) at the Hat Six Travel Plaza on the other side of town. It happened to be on a Thursday, which is my day off, and they were giving away free food for a year to the first 50 to Moe's and the first 100 to Schlotzsky's. I, surprisingly, got there a half hour before they opened and was 45 for Moe's. The line to Schlotzsky's was already surpassed their 100 and it is mainly a sub and sandwich deal. I'd rather have the burritos anyway. All I had to do was make a purchase and then take my 45 card with receipt to the table after and was given this here weekly burrito punch card. You can see I already redeemed my first burrito! What makes it even better is that you already get free side of tortilla chips with every purchase. All I have to do is buy a drink if I want to and I am set.
So you can see, my May was filled with a bunch of awesome happenings! Now let's see what my June holds for me. I do know at the end of the month, Dad and I are gonna make a mini road trip up to Devil's Tower and Mt. Rushmore. We both need to get out of town for a bit and just can't wait until mid September when we both go back home to Michigan for a visit. Now to continue the start of my June and see where it leads me.