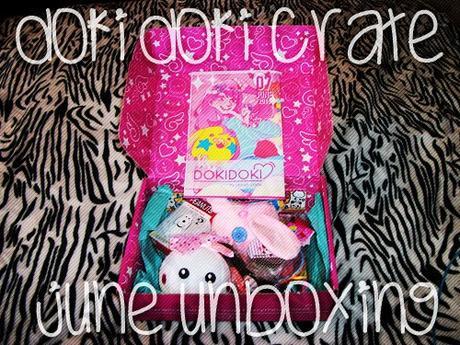 Look what I finally received in the mail on Tuesday! My Doki Doki Crate for June 2016 and it's Harajuku themed this month. I was more happy with this month's crate than I was with last month's. Last month's crate took a while to grow onto me but it just wasn't an instant click. Let's dive right into the unboxing and details of everything!






This is the monthly booklet you receive in each Doki Doki Crate. It follows the traditional Japanese way of reading from right to left. It describes the theme of the box and has a monthy contest that you can do to win a prize on the first page when you open it. The second page has a monthly manga-style comic and has information of the second Doki Doki Crate exclusive plush. Last month was when they started to release DDC exclusive items and it, too, was a plush. The third page describes all of the items that are featured in the crate. It also helps to see if you did not receive an item. I saw a few people on Instagram say they didn't get an item and Japan Crate (the creators of Doki Doki Crate) replied to told that person to contact them so they can send their missing item(s) out to them. The fifth page features the items of the Suteki Crate, which is a surprise crate where one DDC subscriber is randomly selected to win the Suteki Crate (plus they will receive their normal crate). I saw somewhere on Instagram that the Suteki Crate tends to arrive separate from the DDC so you don't know if you won it or not. The last page has a mini feature of the month's cover artist of the book along side with featured subscribers that post photos of their crate using the #dokidokicrate tag throughout social media. This will be the only DDC unboxing post that I will go into detail of the monthly booklet.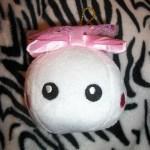 Hoppe-chan Plush: "Hoppe-chan is known for her adorably squishy cheeks, and now she comes in an even squishier form. Her fancy squined bow is inspired by Harajuku and there's a ball chain so you can take her anywhere you go!" This keychain plus is about the size of a decent orange once you wrap your hands and fingers around the form. I say she is a good size for something cute but I, personally, wouldn't use her on my purse as a keychain because she would get dirty fast and the ball chain would easily come apart and I would lose her just like I did with the Hoppe-chan deco keychain I got in my last month's box. Instead, I will add her to my small collection of cute plush I have above my bed.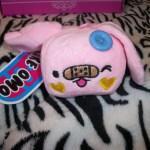 Take-Omo Plush:
"Welcome the newest additions to our exclusive Doki Doki plushie line, Take and Omo! To learn more about these fashionable dogs, see page 4! Who's hiding in your crate? The playful Omo or the daring Take?"
The pink character I received is Omo. There is a little story of the brother and sister dog plushies on page 4 of the booklet that describes each of their personalities and the origins of their names (two streets in Harajuku). Omo is roughly the same size as the Hoppe-chan plush I received. Now the two girls can chill up above my bed together and do their own girly things! Maybe they will join my various Hello Kitty plush in for the fun.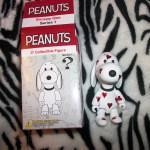 Snoopy Qee Blind Box:
"A new collectable Snoopy Qee figure is coming to you first in this month's Doki Doki Crate before he's available anywhere else! In the spirit of Harajuku, this famous beagle comes in an array of styles. Will you get a chic hue? A funky print? Or perhaps a cool metallic? There are 18 possibilities!"
I am happy with my simple white with red hearts blind box pick (click
right here
to see the other varieties of the blind box). It's nice and simple. His hands remind me of LEGO people and even has a hole in each foot so you could put him on one of those stands that hold certain figures. Not quite sure where I will place Snoopy at but I might try to make some room for him on either my shelf with my Final Fantasy, Assassin's Creed, and Funko Pop! vinyl figures or somewhere above my bed with my plush. Either way, Snoopy is cute and of nice quality. And who doesn't love Snoopy and the rest of the Peanuts gang?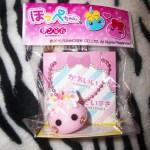 Monthly Hoppe-chan:
"This month's Hoppe-chan comes with a lovely Decora-style bow. Hoppe-chan loves Harajuku fashion and she even has her own shop there! We can't wait to see what other fashion trends Hoppe-chan will try next!"
Another adorable Hoppe-chan keychain! I really want to attach it to my purse but am afraid to lose it like I did with last month's keychain. Maybe if I hot glue the ball chain together at the thing you put the ends into, it might work. Hot glue should be easy to remove by hand on something like that. She would go nicely with my gray leopard Loungefly x Hello Kitty purse. I can even add the Hoppe-chan phone charm I receive in my DDC from April's box as well as I have a Samsung Galaxy S3 and it has no phone charm attachment unless I use a phone dust plug with a hole in it and thread it through it. Now that I type this, Hoppe-chan kind of reminds me of the Chao from Sonic Adventure.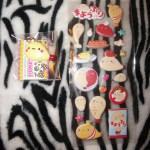 Mayo Puri Zipper Pull & Sticker Sheet:
"Meet Mayo Puri! He's an adorable little bottle of Japanese mayonnaise that hangs around the kitchen with his condiment friends. Did you know Japanese mayonnaise comes in a squeeze bottle (Puri Puri is the sound effect for something squishy!) and is sweeter than Western mayonnaise."
Another cute good! The zipper pull it pretty much a phone charm minus the string and is replaced with a small lobster claw clasp (which you can easily attach to anything small besides zippers). I might attach it to my purse with the other keychains I plan to add on. The stickers are small enough for cute stationary letters and have a slight puff to them (like some scrapbooking stickers). I am slowly getting into stationary and these stickers will come in handy to decorate my letters.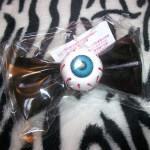 Eyeball Hair Bow:
"Channel your inner Kyary Pamyu Pamyu with these super kawaii hair bows! A mix of weird and cute, these bows are exactly Kyary's style and are iconic of the Harajuku Decora style. PON PON PON!"
I have seen a few different varieties on Instagram of the bows. I ended up getting a plain black bow. I would have been happy with either style because the other varieties were not too extravagant and could be used with any look. I don't wear hair bows much anymore but I could use this toward Halloween time or when I wear my hair up in a top half pony tail to keep a good chunk of my hair out of my hair while at work.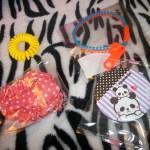 Assorted Harajuku Accessories:
"These mix and match accessories will help add some Harajuku flair to any outfit! Each crate comes with two colourful hair scrunchies that double as bracelets, a funky zipper-bracelet, and a set of adorable pins. For some fashion tips, check out our blog at blog.japancrate.com!"
First off, the booklet had a typographical error and also titled it as the Mayo Puri Zipper Pull & Sticker Sheet so I made up my own title for it. I think the button is so cute but I am not sure what I can put it on. The two hair scrunchies are simple. The yellow one is a simple curled band like you see on some older style keychains. I did try it out and it doesn't snag unless you try to pull it out. It's one of those hair scrunchies you need to undo by hand in reverse order of tying it in. The other one is red with white polka dots and has a bow on it. The fabric on the red and white one seems like it would be a bit too slick for my thick hair when it's all up. Might just use it as a bracelet or for half pony tails. The neon orange and blue zipper-bracelet is probably my least favorite item of the crate but I will still wear it from time to time. I am not a big fan of the colours and look of it. You can't always be happy with every single item in these monthly subscription boxes and just have to live with it.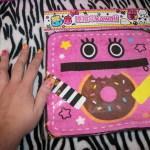 Chakkun Hankerchief: "One night in Harajuku, all the lost accessories came together with a bit of kawaii magic and Chakkun was born! He's a magical pouch that has a zipper mouth to help hold your accessories so that they will never be lost again. This month, we have him as a hand towel! People in Japan always carry a small hand towel or hankerchief because public restrooms don't have paper towels!" Am I weird to think this hand towel is the best item of the entire crate? I think this is a neat idea to carry a hand towel with you. Some restrooms here are extra gross or ran out of paper towels and this will come in handy. This will also be good for when you need to wipe your hands off while in a car or traveling through an airport. There have been many times I needed to wipe my hands off from sticky frappe drinks in my car but had no napkins stashed in my center console. This is going in my purse once I re-organise it! Only think I am unsure of is the wash care of it. Will the colours bleed or fade? I'm not sure.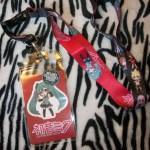 Hatsune Miku Lanyard:
"Keep track of your keys, school/work ID, or your VIP concert badge! Accented with a music charm to show your love for music, the Hatsune Miku lanyard comes with two prints. One side features all the Vocaloid singers and the other features the number one Japanese Vocaloid idol herself, Miku-chan!"
I am not too familiar of Hatsune Miku except of what she is and that she sings. It is a very cute lanyard anyway. Maybe it will give me a reason to look her up and see what she is all about. I will not use the lanyard at this time as I am still using my Sailor Moon lanyard I got from Hot Topic around Christmastime. One thing I do like about the lanyard is the double buckle on it. One to take the lanyard off like a necklace and the other to take off just the bottom part where your keys hang off from. Makes it way easier to keep the lanyard around your neck while you find a key you need to unlock a door.
Overall, I was happy with this month's box. It had a few items I loved and felt like it was worth the $30 for the box. Last month's box felt like it was barely worth the money. I cannot wait until they reveal with July's theme will be and it will determine whether or not I will get it or skip it. I am sure it will be something I will be into and keep it. July will be another double subscription box (well, technically, three because I also do Dollar Shave Club but there really isn't enough there for me to blog about razors each month) because of Doki Doki Crate and Pusheen Box! So, look out in July for more subscription box reviews!