There has been much discussion about fashion week this year as boring critics argue brands have played it safe with their designs by making them more 'sellable' rather than a statement on the catwalk of which London is previously known for. I actually disagree with these critics seeing as I'm basically Anna Wintour, and think our designers LOVE a statement… (I'm talking to you Vivienne!)
I thought I would share my humble opinion on a few of my favorite collections from Fashion Week:
Moschino Cheap & Chic – SS/13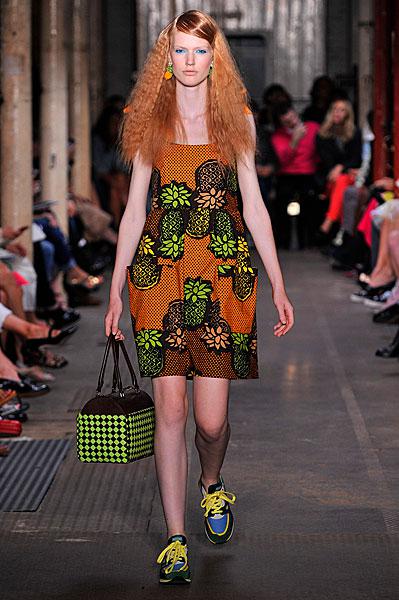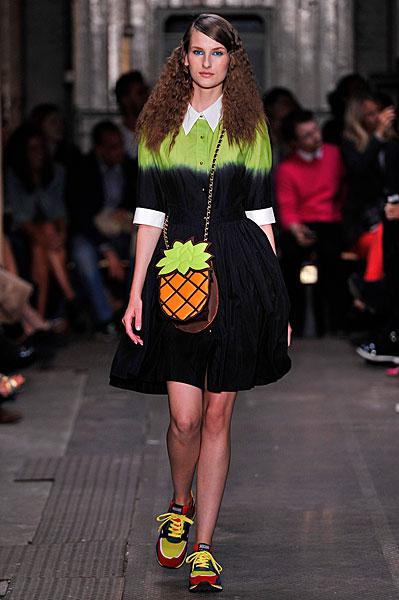 I'm always a massive fan of Moschino as they're constantly coming up with fresh designs. I LOVE LOVE LOVE the pineapple print seen throughout this SS/13 collection. This killer outfit hits three birds with one stone. Ombre, 90's style sports footwear (which I need in my life) and neons. Well done Moschino, I love it!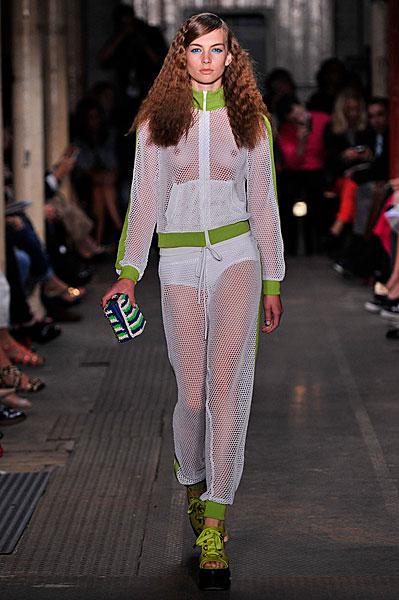 I think the sports lux trend is actually quite boring and monotonous but what better way to showcase it then pairing with neon accessories and boobies.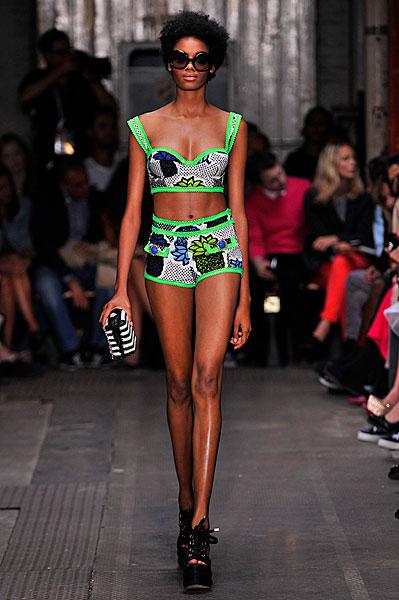 Matching printed two pieces are massive at the moment and this pineapple printed twosome is perfectly showing the right amount of midriff. I also love how Moschino are taking it back to the 90's with hair crimping!

Vivienne Westwood Red Label – SS/13 
 Managing to hold her show in the Foreign and Commonwealth Office you would think that was a big enough statement for her to make, but no. Unlike other designers who shyly pop their head around the corner Dame Viv decided to take her trousers off, and attempt to start a climate revolution, putting her clothing line secondary on her list of priorities. Oh Vivienne…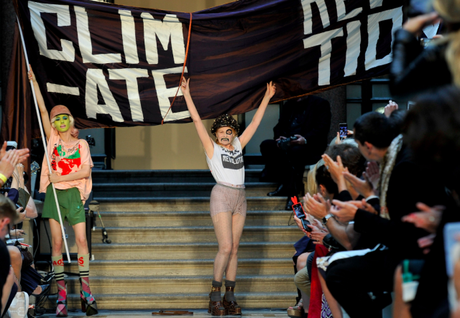 (Charlotte Free looks so hot even when she's painted green)
Her catwalk collection is attention grabbing with model's faces painted in shades of green, pink and yellow.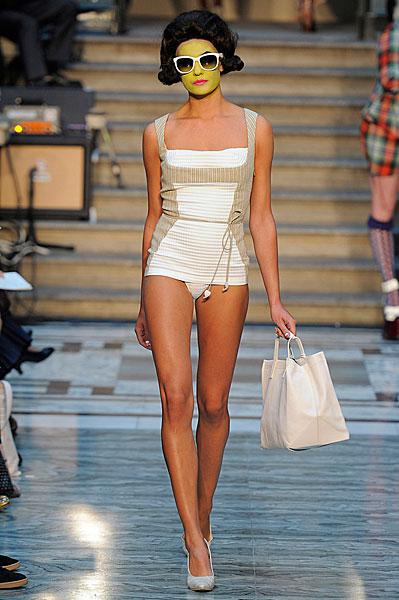 Shrek or Chic?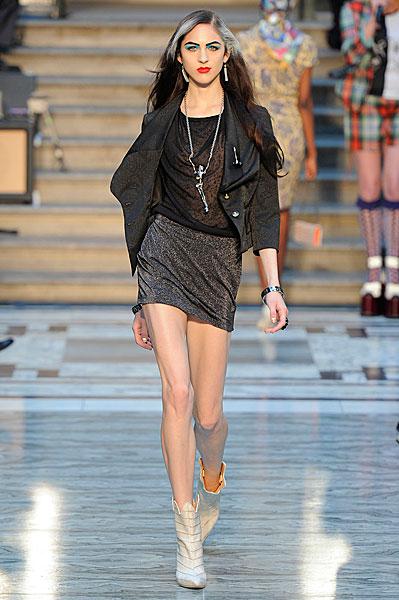 Viv teams this metallic outfit with gray hair skeleton necklace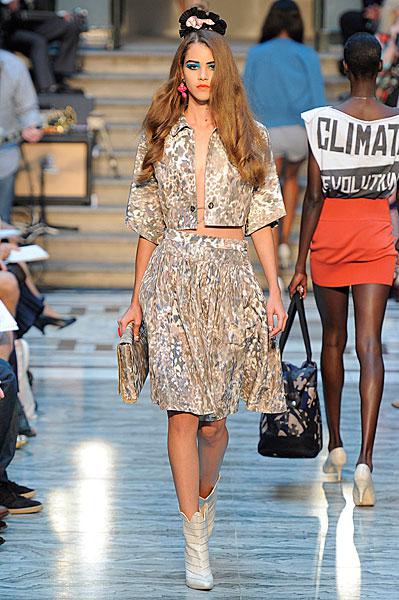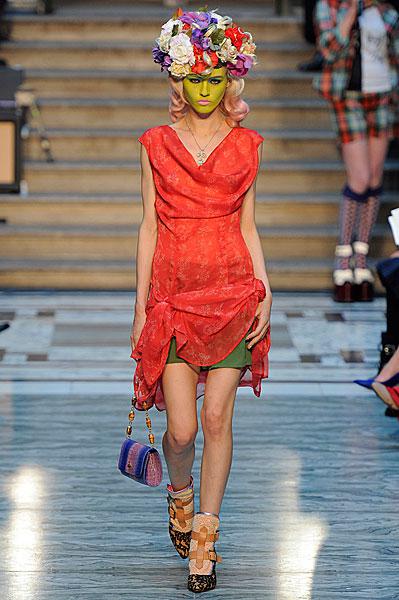 What do you think of Viv's stunt? It wouldn't be the first time she's pulled anything like this. I don't actually particularly like the designs very much, but the 'show' she put on was quite something.
Burberry - SS/12
I'm really impressed with Burberry's SS/12 collection. Normally quite conservative, the brand's trademark is the beige mac. They completely transformed the catwalk this season with an array of multicoloured metallic trenches showing a completely different side to the brand.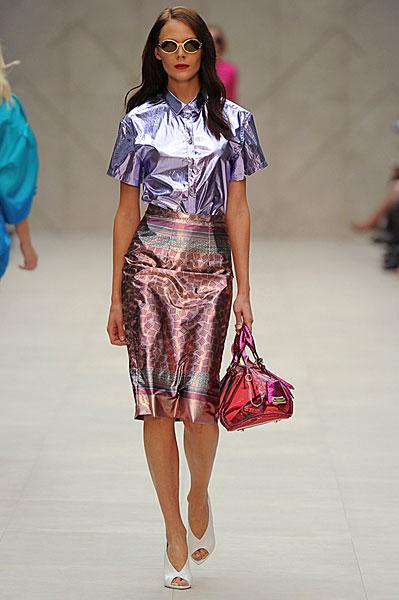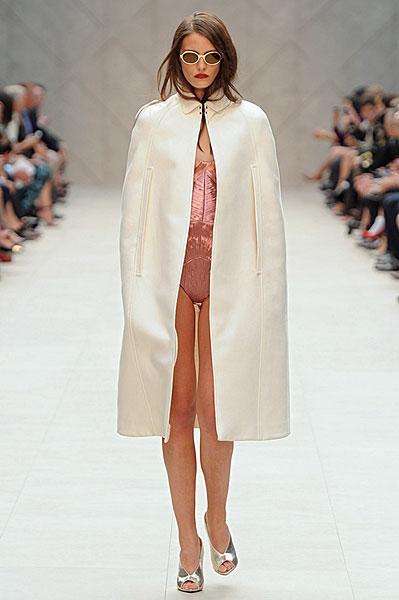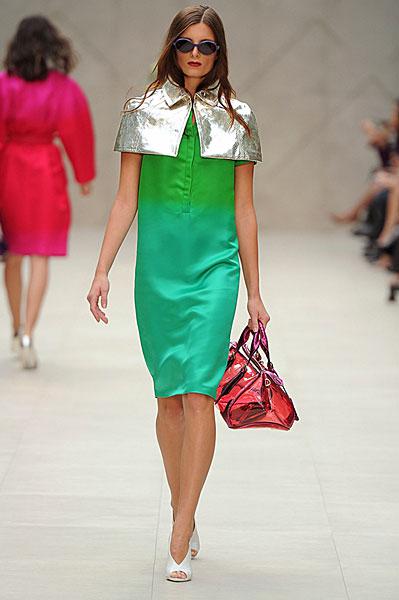 I love the coloured metallics used especially this little silver cape. I've seen them everywhere at the moment and think they look really cute! (Not sure I would wear one my self though!)
Also, Harry Styles was sitting on the front row of this show. I'm sorry, WHY?! Do I spy a new face of the men's campaign? Surely not.
I was VERY disappointed with Meadham Kirchoff's collection, I felt it was a higgaldy piggaldy try hard mess! Also I wasn't keen on Henry Holland's designs this season. I think he should have gone more quirky like his other collections.
What collection did you enjoy the most? Do you agree London has played it safe this year? Were you lucky enough to make it to any shows? I've nearly finished my first week at Drapers Mag which is actually really good. It's great to get editorial experience and get my name on some articles online!
Jessie xoxo