"Like it or not, our identity is often inextricably linked to what we do as our profession; as someone who previously worked outside the home, I know what it's like for supporting expat spouses to find themselves struggling when that bit of their lives is suddenly stripped away. That loss of identity, mixed with culture shock and adjustment challenges, can throw supporting spouses completely off kilter…and let's face it, it takes awhile to come up for air and breathe."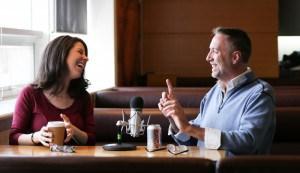 Ally @ Limitless Laowai
Recently, I was lucky enough to be interviewed by the amazing founder of Limitless Laowai, Ally Mona, for one of her brilliant podcasts and we had a ball! Ally's a veteran expat, having lived in China for over a decade and her site and regular podcasts are renowned for helping the thousands of new expats coming into China to settle in and find success!
We did a two-part interview…the first on 'reinvention'…. yes that old chestnut! You know when you are the spouse who hasn't moved for the job…and all that goes with that new hat you're suddenly wearing? Yes, that! 
If you're about to make the move to a new country, it might be just what you need to hear. And if you've done anything like it before I'm sure you'll nod along with me in some parts. 
You can pop over to Limitless Laowai to check it out and have a listen here. There are lots of great interviews, on all sorts of subjects, so you might find one that takes your fancy.
It's around 30 minutes, so if you're short on time, you can cut straight to the podcast here…. 
(Don't be put off by the pause in the middle and the other 'voices' – that's just an advert!)
Part 2 is about living in a second tier city in China and how different it is to 1st tier China. Trust me! It is.  😉 
Stay tuned for that one too! 
Cheers,
Nicole