It goes without saying last year was an almighty juggle.There was my final year of university with a dash of trying to earn good money, and a sprinkle of maintaining all meaningful relationships and of course writing here on AOG.Metaphorically keeping all balls in the air and trying to divide my time into giving all of them much needed attention was very trying at times.
At the lowest deepest darkest moments of my third year study at university I questioned whether I was worthy of graduation. In the depths of stress it seemed like a distant ideal....I lost sleep in worry at times. I really did put the work in, granted I had to give the occasional "no".But it was all worth it. On Friday I shall receive my Bsc Applied Computing 2:1 degree.
Now you regular readers of mine will know well I am a big fan of a lust list.For once this is what I shall be ACTUALLY wearing....I know different huh?
I did research graduate outfits and generally their not overly written about so I thought I would show you guys what I'm planning on wearing.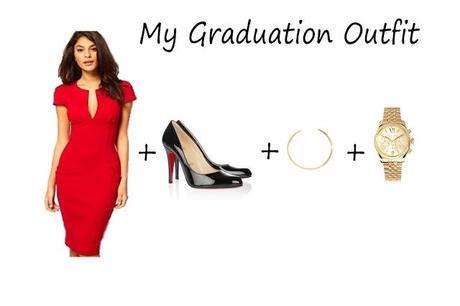 I must point out my robes are gold and red hence the bold dress color choice.I wanted to be sophisticated and comfy at the same time so chose this pencil dress originally from ASOS- unfortunately it is sold out online so I purchased mine from Ebay....thank the lord for Ebay phewww. Its understated and simple perfect for graduation because lets face it my dear parents will probably have my graduation photo proudly displayed in the house for as long as I live.
Dress: ASOS/EbayChristian Laboutin Decollete Shoes: Net A PorterNecklace: ASOSMichael Kors Watch: ASOS
Those of you that follow me on Instagram (AspirationsOfGlam) will see I ordered the shoes only last week. I decided about a year ago I wanted some Laboutin shoes and have saved ever since. I cannot wait for them to arrive....it should be tomorrow. I think they will look spectacular with my dress.
Again with jewelry Ive kept the look very simple, my faithful Michael Kors watch which I have had since my 22nd birthday and a very simple thin choker.
Tell me about your graduation?What would you wear if you were attending a graduation ceremony?