Hey beautifuls, a couple of months back I had got done gel Nail extensions, and my nails have become very brittle since then. I cannot grow them and have to always keep short. I was wondering am I ever be able to apply a good nail polish very soon. I took some courage and applied some shades from Miss Nails.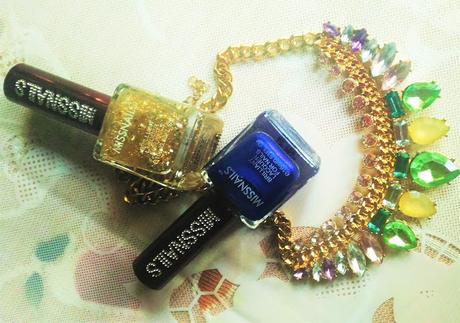 About Miss Nails Nail Polishes: 
Good Nail Polish is the simplest of ways to for the women to make a style statement. The nail polish dries off quickly and provides a shiny texture to the nails.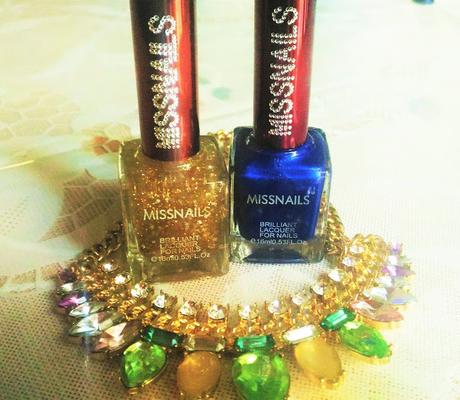 Price: Rs. 129 Available here
Packaging:  Miss Nails Nail Polishes comes in square glass bottles with a glossy maroon cap where the brand logo is done with tiny shimmery crystals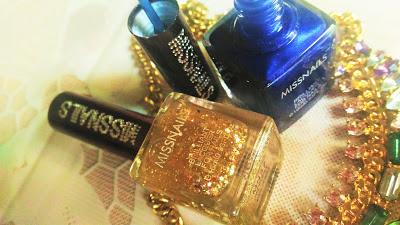 My Shades: 
Orchid Blue (MN31): This is a midnight blue with a pearly finish and has a lot of purple shimmers.

Retro Gold ( MN 37): A clear glitter polish with gold shimmers for a top coat.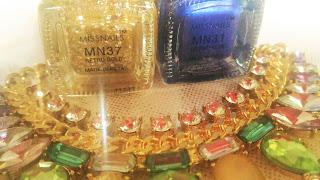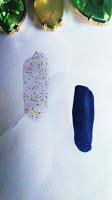 My experience: Miss Nails Nail Polish has one of the best packaging I have seen. I love the tiny crystals that form the name of the brand on the cover. Both the shades are really pretty. I have been looking for a shimmery midnight blue for a long time. And the Miss Nails Nail Polish in Orchid Blue has purple shimmers which make the shade more exotic and rich. Gold glitters, doesnt it remind you of Christmas time? So, apt is the Miss Nails Nail Polish in Retro Gold for this Holiday season. And together they create a beautiful burst of richness to add glamour to your nails.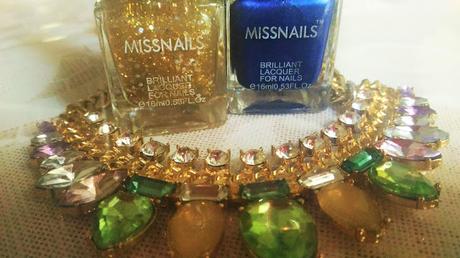 I like the smoothness of the Miss Nails shades. However, it takes a bit more time to dry. Specially I had to wait for long to apply the top gold coat over the blue one. The colours are really dashing and specially the gold glitter which I know I am going to use a lot. Its so me.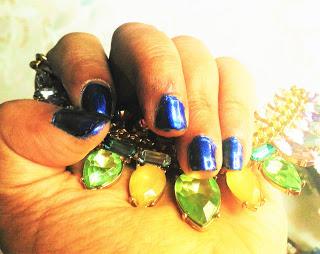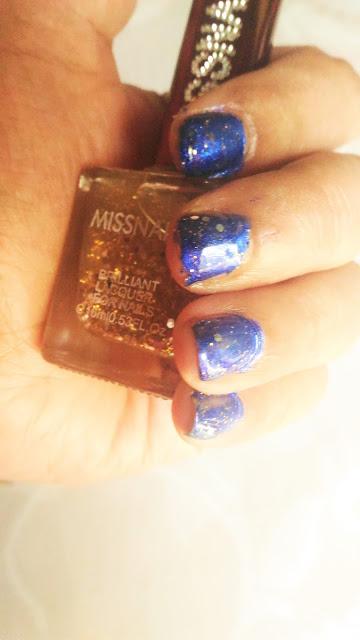 Pros:
1.Long lasting shades
2.Very opaque colours
3.Classy packaging
4.Very shiny
5.Top shine also lasts for long
Cons:
1.Takes time to dry
2.Availability is limited
Rating:4.4/5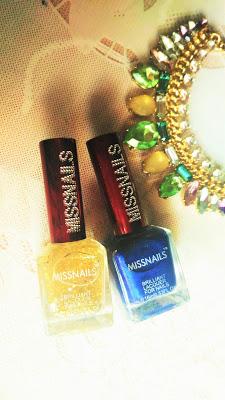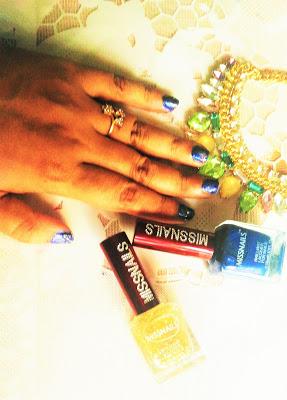 Miss Nails Nail Polishes in Blue Orchid & Retro Gold can brighten up your holiday season with their vibrant color and long wear formula. I am sure I am going to use the Retro Gold everytime I decide to give my nails the X-factor from now on.
Here is their Instagram account.