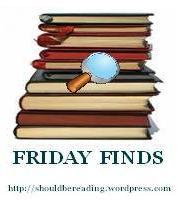 Description
'Friday Finds' is a weekly feature hosted by MizB at Should Be Reading. Here, you share the book titles you discovered or heard about during the past week. These can be books you were told about, books you discovered while browsing blogs/bookstores online, or books that you actually purchased.  My Find!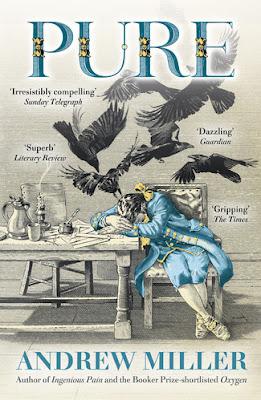 Title: Pure Author: Andrew Miller Release Date: 5th January, 2012 How I Found it: Browsing in Waterstones Why I like the look of it...
The Cover
Well. I love the cover. When I picked it up it was that nice kind of parchmenty paper and looked quite old fashioned and vintage which I LOVE. I love the image of the ravens bearing down on a tortured man- so Edgar Allan Poe and Gothic! I love the color splashes on the black and white. Yep I am in cover love. The Plot It sounds awesome...
A year of bones, of grave-dirt, relentless work. Of mummified corpses and chanting priests. A year of rape, suicide, sudden death. Of friendship too. Of desire. Of love...A year unlike any other he has lived. Deep in the heart of Paris, its oldest cemetery is, by 1785, overflowing, tainting the very breath of those who live nearby. Into their midst comes Jean-Baptiste Baratte, a young, provincial engineer charged by the king with demolishing it. At first Baratte sees this as a chance to clear the burden of history, a fitting task for a modern man of reason. But before long, he begins to suspect that the destruction of the cemetery might be a prelude to his own.

 
Grave Digging, 1785 and love. I cannot not buy this.
Also, when I looked it up I found this great review on the Guardian and I got even more sold.
Let me know if you want to read this book in the comments!