Review: Bioderma H20 Micellaire Solution & Photoderm Spray Solaire Spf30

Since moving to the South of France a year and a half ago I have discovered a love for french pharmacies as they are just mini cosmetic stores in themselves! Its like being in Santas grotto for me!
When I first got to Monaco I panicked about not being able to get hold of my favorite  beauty essentials but over the past year my beauty regime has had many new french additions that I honestly could not now live without!
One being a much raved about product that all skincare fans especially UK beauty lovers have gone crazy for and that is
Bioderma H20 Sensibio Micellaire Solution
. Its a make-up artists secret weapon and always behind the scenes in most fashion shows.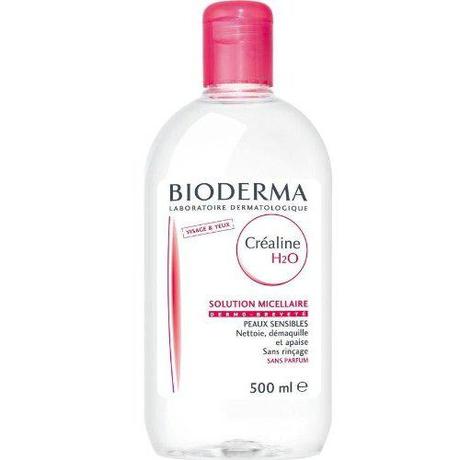 What it is...
Bioderma H20 is specially formulated for sensitive, normal to dry skins, the Sensibio H2O micelle solution gently cleanses face and eyes. It removes water-resistant make-up. 

The micelles contained in its formula effectively micro-emulsify impurities while maintaining the skin's balance (soap-free, physiological pH). 

Soothing and decongesting active ingredients prevent the feelings of irritation often caused by cleansing.
What I Think...
This has to be the most amazing eye cleanser I have EVER tried! I used to go through bottles of make-up remover like I was drinking them, as I would need so much to remove mascara especially waterproof. This 
instantly
 removes all traces of make-up on the face & eyes in a gentle, fast & effective way. It does not drag make-up across the skin but just dissolves it. It is just like water, not greasy or oily in texture at all. Great to use in a hurry hence why so many make-up artists have this in 
their
 kit for shoots.
I put a little onto a cottonwool pad and just hold over the eye for a few seconds then its bye bye panda eyes! I also use this over my face then proceed with my normal cleanser. In the morning I use this again alone as my daily cleanser.
This is a french 'must have' product and if like me you are lucky enough to live in France or near by then getting hold of this product is easy as every french pharmacy carries it! Its hot stuff! It is available in a wide range of sizes too.
The best deal is 2x500ml for around €17!!!!
Unfortunately if you are out of the area, like in the UK, its incredibly difficult to get your hands on it but if you can then do! People are resorting to ebay or paying a fortune in delivery charges but people are because it is that good! So definitely worth investing in! (
Links below
).
Another great find that I discovered from this range was -
Bioderma Photoderm Spf30 Spray Solaire, Suncream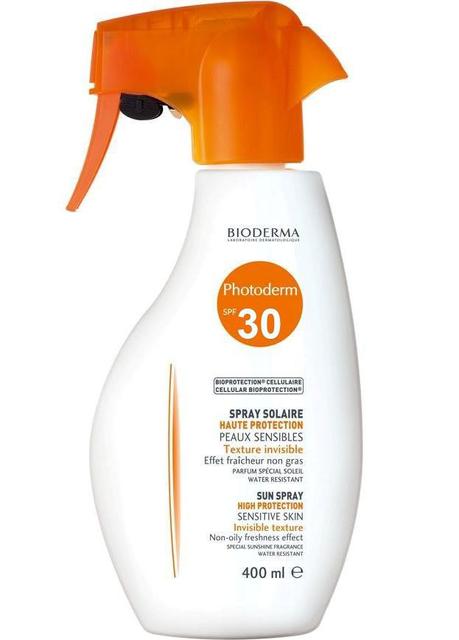 What it is...
For face & body. Bioderma Photoderm Sun Spray SPF 30 sun protection is designed for fair skin and sensitive skin. This is a very high protection sunscreen that allows exposure by limiting the dangers of the sun. 

High anti-UVB efficacy and unmatched "extreme anti-UVA" safely protect against sunburn and fight against premature skin aging. 

A major advance against risks of cell damage, its exclusive patented Bioprotection ® * provides optimum protection of skin cells. T

exture that leaves skin feeling comfortable and extremely soft. Perfectly colorless when applied, no white marks, spreads very easily without leaving a greasy film. 

Non-comedogenic, water resistant and photostable.

What I Think...
Now I am very serious about suncare as I do have very fair skin  and live in a warm climate. I suffered skin cancer in its worst form some 12 years ago when I was very young, only 20, so I know to the full extent how serious wearing an SPF is. I made a full recovery since then and was extremely lucky, but I am always aware of the sun and invest in high end, fully certified Sunscreens that I know will protect my skin.
Before my latest discovery in suncare, for the last 3 years I used Institut Esterderm, again a french brand, (available at
Space NK

, international delivery available, & local pharmacies
) which I adore as it works on sun strength not on a sun factor so it effectively works a lot better allowing you to stay longer in the sun and to get a sunkissed glow to the skin without the harmful burning rays. Its just amazing, I adore using this and shall continue to use also.
I went to repurchase this at a french pharmacy when I also spotted this Bioderma one. There was alot of promotions on suncare during the summer so a good time to try new brands. Now I have been informed that Institut Esterderm & Bioderma are linked and the same company so no wonder I fell in love with this! It works in just the same way, protecting your skin against the suns strength .  I used this all last summer and actually got a beautiful color to my skin without sitting out in it! I felt 100% safe and secure in the knowledge that my skin was fully protected.
It is in a spray bottle which I personally prefer as easier to apply yourself in hard to reach areas! It is for face & body which I have tried and tested and works perfectly as it is designed for sensitive skin and is non oily. It smells gorgeous! Summer smelling like you can visualise the beach with the waves crashing alongside the sand...... and not that awful typical sunscreen smell!
Again it is also available in other SPF factors, sizes and not as pricey as some, but still worth every penny.
Priced around €15 for 400ml! Bargain!Summary...

Two fabulous key products from Bioderma! Both something that should be in your bathroom cupboard so worth investing in and trying out if you can get access to them as you shall not be disappointed. I cant say enough good things about them and shall continue to explore this brand.
Where you can buy....
- Bioderma is available at all leading French Pharmacies (varying in price)
- 
www.leguidesante.co.uk
Offer international delivery & UK delivery from £12.99 (weight depending)
-
www.newpharma.be
Offer international delivery.
- 
www.ebay.com
search for Bioderma Sellers.
Have you tried Bioderma products? What are you thoughts?
Where do you buy it?
Please share and comment below!

P.s. Congratulations if you proposed to your man today being a Leap year!