Since arriving in Nepal it has been a mixture of odd sensations, sights and experiences. As it has been over a week since I arrived I thought I would share some of those things with you.
After not having a hair cut in a while my hair was getting pretty wild. Yet, M gave me the brilliant advice of waiting to get my hair cut in Nepal. After so many awful experiences of bad hair cuts and hating what I have been left with I was dubious. But I always trust M so instead of paying the London salon prices (which I haven't yet!), I waited and his sister took me to get my hair cut once I had arrived. The cut was everything I wanted; quick, simple and no messing around. I often wander why it takes hours for my hair to be cut in England. But my greatest shock of all was when when she asked for the payment, which had come to the grand total of 60p! I will definitely be making the most of the cheap hair cuts in Nepal!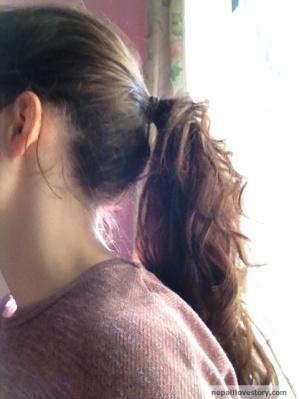 I visited the center of Kathmandu with M a couple of days after I arrived. It was a crazy mixture of all sorts of sights and people and the weather was so awful. In order to get there though, we needed to travel in a micro bus from the house. You are expected to stand on the main road waiting to flag down a passing bus where the conductor travels half hanging out of the bus with the door open shouting the destination. As the micro bus slowed, I jumped on with M and a lady shuffled up in her seat for me. However, there was not even enough room for a small child to perch on so I was left supporting a seated position with my leg muscles whilst M swayed from the whatever he was clutching on to on the ceiling. This really started hurting my legs after some time and I was fidgeting around when a lady sat on a single seat opposite offered me her lap to sit on. For the rest of the journey I was half perched on the sliver of seat and half perched on the ladies lap. Definitely an extraordinary experience of Nepal which makes M laugh every time.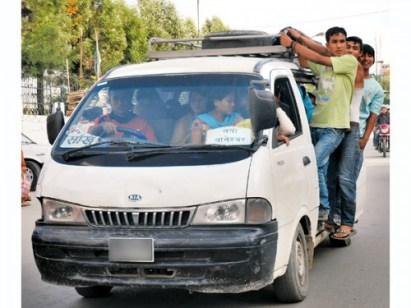 The same day I traveled to Kathmandu, I got a Nepali sim card. In the UK, they just give out sim cards for free and there is not much effort involved in getting one. But, I quickly learnt in Nepal it is the opposite story. In order to get a sim card for my mobile the company took a copy of my passport, my visa, passport photos and thumb prints. I felt like I was attaining citizenship –  in fact, it was harder to get a sim card than it was to get my visa into the country! But at least it does not cost as much to use and top up.