Dating a celebrity is hard when the paparazzi follow you every where. Luckily, my boo Trey is worth the hassle.
Before the launch of Culina Restaurant's new menu, I decided to organize a double date with my best friend Jaz, her flavor of the week, E, and my baby, Trey. As a general rule, I do not go on dates with different men to the same location, but for my favorite date spot in Beverly Hlils, I made an exception.
I thought a Tuesday night dinner would yield less media attention, but as we neared our destination, the herds of people and camera flashes did not ease up. Just another day in the life of a social icon.
Entering the restaurant, we were greeted by the most beautiful hostesses that Los Angeles has to offer. But my man is so loyal that I did not catch him looking once (I trained him well).
Walking through the main dining room, I can never get enough of the classy, sexy, and vibrant atmosphere. Elegant lighting and gorgeous decor are plentiful- but obviously Jaz and I were the most stunning pieces of art in the restaurant that evening.
We were seated outside on the patio where it could not be more romantic and sensual- just my style! Trey and Enrique's dark skin tones looked so good, I had to snap a picture.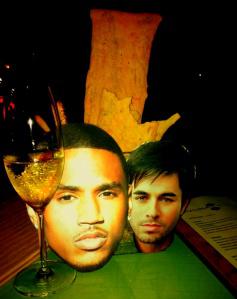 Yum. I knew what I was going to have for dessert (wink).
We started our meal with some Nebbiolo D'alba and crudo sampler dish. Succulent. We moved on to share Caprino Pizza and Bombolotti Pasta  (screw the no carb diet!). Phenomenal. Next, I made sure to feed Trey some Abbacchio Allo Scottadito lamb chops to keep his muscles big and strong. Delicious.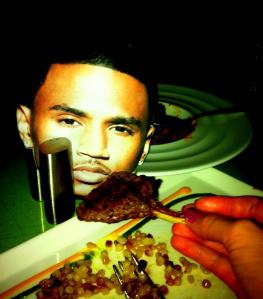 Everything was going very smoothly. Culina management even came by to check that our dining experience was exceeding our expectations. Next thing I know, Jaz and E get into a heated discussion and all I can hear is,"Maldito mujeriego!!" over and over again. Looks like Enrique is still with Anna. Someone is dead.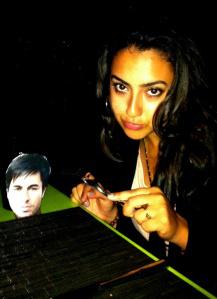 Attempting to put the drama behind us, we move on to dessert. This is what I had…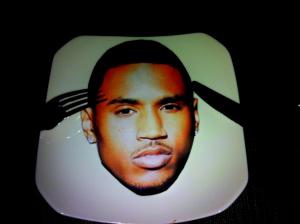 Despite a tumultuous start to an evening with the paparazzi and the drama caused by unfaithful men, Culina, Trey, and Jaz (not Enrique) were the perfect combination of magical. Love is in the air…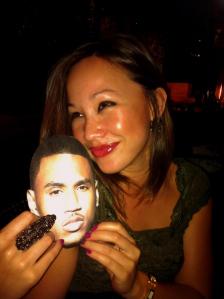 Bravissimo! I can't wait until date number two.
Until next time,
Cleo