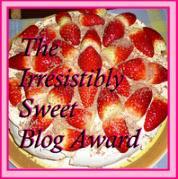 Rules:
1. Thank and link to the person who nominated you.
2. Share seven random facts about yourself.
3. Pass the award along to 15 deserving blog buddies.
4. Contact those buddies to congratulate them.
Yay! My fiirst blog award! <3
First I have to thank you who read this blog, thank you VERY much! I also have to thank the Love Laugh and Read blog for passing the award and for being a Reading Romances reader!
This was a big surprise! As you know, I've only been blogging for a couple of months and the award is a very welcome incentive to keep blogging! If you're a fellow blogger, you know it's hard work!  I love reading your comments and commenting back!
Here's my seven random facts:
*I hate Texting
*I love travelling (anywhere, really)
*I recently bought the Lord of The Rings extended edition blu-ray – I'm THAT addicted!
*One of my favorite things to do, besides reading, is watching tv series!
*I do not have a favorite band!
*I do not have a favorite book!
*What I like most about blogging: Meeting other bloggers!
I'll be passing along this award to:
http://mymotherstuttered.blogspot.com/ - my first Book Blogs friend!

http://bookslikebreathing.blogspot.com/ – I love this blog! You should visit it!

Proud Book Nerd *- has a new design, check it out!! Great blog!

Kindle Fever*-love it!

http://rachellyndhurst.blogspot.com/- funniest author blog around!

http://www.codyyoungblog.blogspot.com/- awesome writing tips!

Romancing the Darkside*- love the mini reviews!

http://www.reflectionsofabookaholic.com/ *- one of my faves!

http://www.darkangel88.com/- giveaways every week!

http://release-notes.blogspot.com/ – thanks for following me!

http://asalwayslovecarol.blogspot.com/- a very nice blog!

http://coffeeandromance.blogspot.com/- a HOT blog!

http://imlovingbooks.com/ – amazing!

http://romance-around-the-corner.blogspot.com/- best background!

http://abookishaffair.blogspot.com/*- thanks for all the comments!
*Small Blogs, Big Giveaways host!
I'll be notifying all of you as soon as I have the time!!