A few days ago, I posted this photo on Instagram with the message: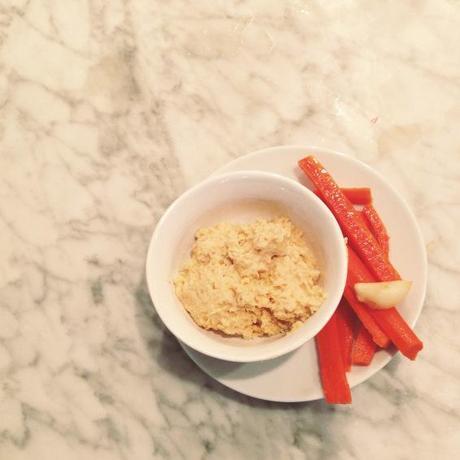 "Any time I feel like I might be starting to come down with something I do 2 things immediately: 1. Put Thieves on my feet, and 2. Load up on fermented veggies. We eat these daily but I overload my system with them to help my antibodies fight invaders. I started feeling stuffy this morning so I'm having fermented hummus, fermented carrot sticks, and a clove of fermented garlic for lunch. My breath is kickin' but so is my immune system!! This protocol keeps my symptoms from progressing almost every single time."
Since then, I have had a lot of folks inquiring about how I make, or where to buy my fermented foods. I've not made my own in about a year (yikes) due to the renovation and such, except for kombucha, which I have managed to keep up with. ( Here's how to brew your own - easy peasy and about $.15/bottle!) I consider fermented foods an absolute MUST in every healthy diet so we eat them every day, usually at lunch and dinner, just on the side usually. I need to remember to start having them for breakfast as well. I've figured out a little trick to get my kids to eat them (willfully) and I'll share that in a post to come.
Anyhow, I was thrilled to find Todd Vincent, aka The Fermented Farmer, here in Nashville. He ferments things to perfection that I didn't even know you could ferment!
Here's the awesome news. Even if you aren't in Nashville, you can STILL get his amazing ferments, because he is now shipping them! Yes, friends, this is the best thing to happen to shipping since Amazon Prime.
I regularly buy and eat Flu Fighter, Carrot sticks, Green Beans (these are spicy!), hummus, salsa, bean paste, and sauerkraut. I did an entire post devoted to the hummus because I'm addicted to it. He uses only the best organic, local produce (most of which he has grown himself) and his knowledge about food and health in general could keep me listening for hours upon hours. We're a strange breed, my husband says, the health foodies. I know, but I love it.
If you're a bit hesitant to dive into ferments, I would recommend starting with the carrot sticks. I always say they're a great "gateway ferment." Remember, the majority of our immune system is in the gut. One of the best ways to get your gut healthy (if you're an average American, yours probably isn't!) is through a healthy dose of live, raw, prebiotics and probiotics: aka Fermented Foods.
Enjoy!!!
live well. be well.