Hey, sorry I haven't posted in a while. I haven't forgotten about you! I've been a busy busy student going out and out and out and out and out and out, yeah you get it... I should really start doing some work. I've an assignment on Doc Martens so it really shouldn't be too strenuous!
Anyway it's that time again, when I think I have NOTHING in my wardrobe so spend hours scouring the internet (eBay) for new clothes. These are just a few of the items that have caught my eye. I'm ready to purchase as soon as my next student loan comes through yay! Ok so maybe i've purchased one of them...
Even if I had 28 wardrobes full of clothes I would still have 'nothing to wear'. That's such a girl thing ha!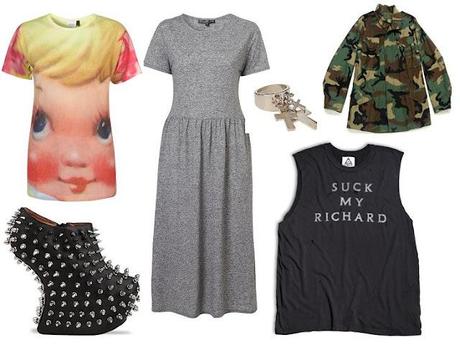 From top left to bottom right:
1. Meadham Kirchoff T Shirt Dolly Face. Guest designer at Topshop as soon as i saw this I FELL IN LOVE and just had to snap it up. It's so cutesy and freaky! Kirchoff is so huge at the moment and her designs showcased in London Fashion Week were perfect! It will probably sell out soon so I couldn't wait around contemplating (yeaaaaaaah excuses). I'll show you how I style it when it comes yay!
2. Grey Midi Speckle Dress Topshop. I've wanted this for ages now, it's such a versatile staple piece and I absolutely adore the length!
3. Cross Ring ASOS. I'm not normally a ring sort of girl but this is amazeee with the cross detailing. Perfect for my love of all things grunge.
4. Army Camo Jacket  Urban Outfitters. At £48 it's so expensive but I just NEED one and I need it now. I can't be bothered to traipse round charity shops. I will keep my eyes peeled though!
5. Jeffrey Campbell Shadow Stud Shoes at Solestruck. These are just perfect, and yes I know I already have the Night Litas with the same heel-less feature but these are STUDDED ;)
6. Suck My Richard Tee - Unif. Ok first of all: Unif are now stocked at ASOS. How exciting is this? I have wanted soooo much Unif stuff but I refuse to pay so much customs and posting from America all the time. Now I don't have to!! Well... i do because ASOS don't even stock this top! Boo. But the thought was there... thanks ASOS.
Are there any key pieces you want this chilly February?
Stay Cute,
Jessie
xoxo