burger boy, my brother and his fiancé little miss bacon happily ate and shopped our way through Singapore in celebration of my 30th birthday in March. I don't usually write about my overseas travels but as so many of you foodies have mentioned that you're heading to Singapore this year, here's mine and burger boy's favorite Singapore eats. 
My 5 favorite Singapore eats…
There were so many great foodie finds but these are my Favourite 5 Singapore Eats, keep scrolling for burger boy's.
#1 Malaysia Food Street in Sentosa Island – Char Kway Teow
I am really fussy with char kway teow (stir fried rice noodles) as my mom makes it amazingly. However, this char kway teow at Sentosa Island's Malaysian Food Street was just out of this world. I loved the tasty combination of Chinese sausage, prawns, spring onion and egg. What I loved most about this dish was that it was fairly light and not too oily unlike some char kway teows I've had in Singapore.

#2 Malaysia Food Street in Sentosa Island – Lor Mee
It was also at Sentosa Island's Malaysia Food Street that I had my very first Lor Mee which is a Chinese inspired noodle dish served in a thick gravy. I could have had bowls and bowls of these, it was just so tasty. I have put in a special request to my Chinese mom to master lor mee for us


The Malaysia Food Street food stalls selling char kway teow and lor mee were to the right as we first walked in but I can't remember the names. They did feature photos of the dishes at their stalls though.

#3 Din Tai Fung – Beef Brisket Noodle Soup & Dumplings
Before heading to Singapore, I was told that Din Tai Fung dumplings house was a must visit. Awarded with one Michelin Star I had to go and see what the fuss was all about.
Although more expensive than any hawker food you'd find in Singapore, Din Tai Fung was well worth trying. I had their beef brisket noodle soup and it was just so tasty, the beef just melted and it was exactly what I felt like after days of eating stir fried styled dishes. Plus service was great and it was a comfortable dining experience.

burger boy and I really enjoyed these dumplings too, it was a great snack before dinner


You'll find Din Tai Fung all through Singapore.
#4 VivoCity's Food Republic – beef bun
Unlike Perth, in Singapore you can't go wrong in any of the food halls or hawker centres. burger boy found this fried beef bun which I absolutely loved, again like the Malaysia Food Street, I didn't take notice of the stall name but there were photos of this beef bun featured at the stall.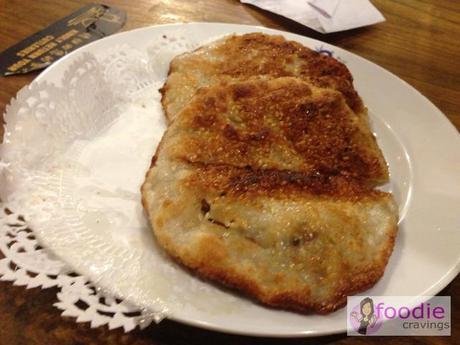 #5 Slappy Cakes in Sentosa Island – MYO Pancakes
So I think you would have noticed by now, I ate a whole lot at Sentosa Island

After visiting Malaysia Food Street, I felt like dessert so we headed next door to
Slappy Cakes
.
Between the four of us, we ordered the following to make our own pancakes:
Buttermilk batter (SG$8.5)

Blueberries (SG$3) 

White chocolate chips (SG$1.50)
Crispy bacon (SG$2) – this was a must for Little Miss Bacon
Coconut Peanut Butter topping (SG$2)
 
burger boy's favorite Singapore eats…
I thought I'd separate out burger boy and I's favorite Singapore Eats as you'll notice they are pretty different!
#1 Holland Village – Everything With Fries
Everything With Fries is a Singaporean restaurant and as the name suggests everything is served with fries

burger boy was super excited to stumble across Everything With Fries as we were exploring Holland Village. So excited that he mis-read the menu and ordered himself a steak instead of a burger…

After a bit of explaining, burger boy managed to convince the waitress to serve his steak in a brioche bun which you see below

burger boy devoured his burger creation pretty quickly!

#2 Maxwell Food Centre – baked buns
burger boy loved these buns from Creative Delight at Maxwell Food Centre, after eating a couple each, he bought more for our plane ride home to Perth.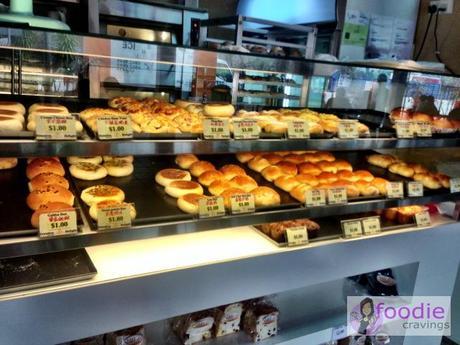 If you love your chicken rice, there was a huge line at one of the Maxwell Food Centre stalls who are apparently famous for their chicken rice

#3 Glutinous Bay – Roti & Satay
We had our first taste of Singapore's hawker food at Glutinous Bay. It had an awesome hawker feel, it's cash only and you need to bring your own serviettes. burger boy went crazy for satay sticks and roti here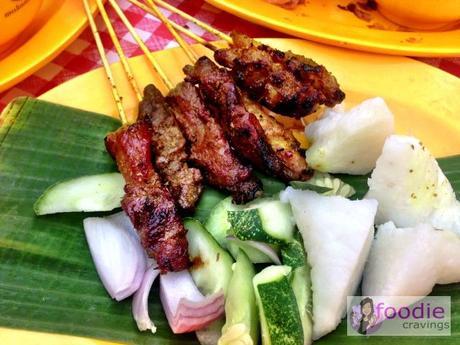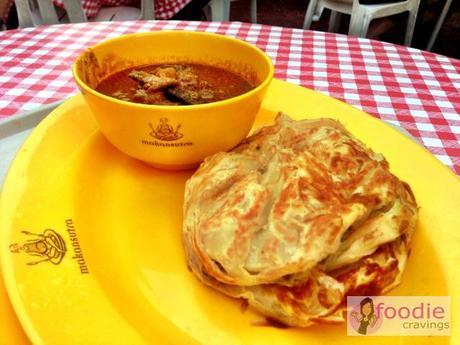 #4 China Town Food Street – more Satay Sticks
China Town was one of the last stops for hawker food before we headed home to Perth. burger boy and I stuck to the main area and he found himself indulging in satay sticks again

Although my brother and his fiancé Little Miss Bacon reckons the real quality hawker food is up some dodgy looking stairs. Being pregnant with junior burger I was being careful with where/what I ate so we decided not to check it out.

#5 Newton Food Centre - Singaporean Chilli Crab
Newton Food Centre is the place to go if you enjoy the buzz. Here although it's against the food centre's policies, food stall owners do try to encourage you to buy from their stall and there are plenty to choose from! burger boy and Little Miss Bacon got right into this Singaporean mud crab & a dozen sweet rolls which was just SG$41!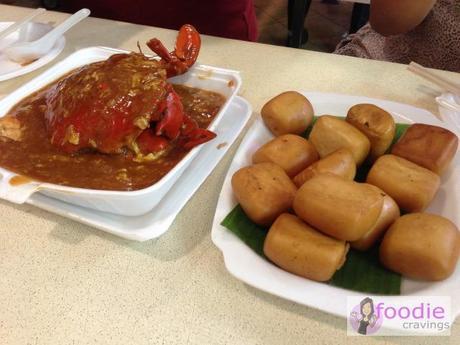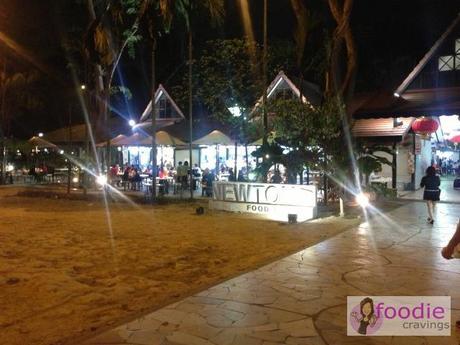 For those of you heading to Singapore for an eating trip, my tip would be to eat local as the Western food is more expensive than Perth and our higher end Perth restaurants are comparative. The local food on the other hand, you could spend the same amount as you would in a Western restaurant but eat authentic hawker food for a week

Plus, unlike other Asian countries, in Singapore each food stall features a letter (A – D) indicating their food hygiene levels. We stuck to stalls that were rated A & B, check out this website for more details on Singapore's Food Hygiene Standards.
A note re coffee. If you love and need your coffee to function, you're looking at SG$5+ for decent coffee in Singapore and the Singaporean coffee which is much cheaper didn't do the trick for me.
For more foodie pics from my Singapore trip check out my foodie cravings facebook album.