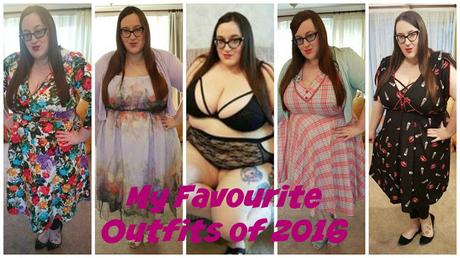 Things have been a bit quiet on the blog the last few months and in general 2016 has been the year my blog took a back seat - i have been travelling loads which has meant i didn't have time to write, but i have also lost my enthusiasm for blogging, things have changed and i am not sure it is for the better, but that is not for this post.
I have however been avid at documenting my outfits on Instagram and i wanted to share with you some of my favourites from this year
Collectif Rose and Polka Dot Dolores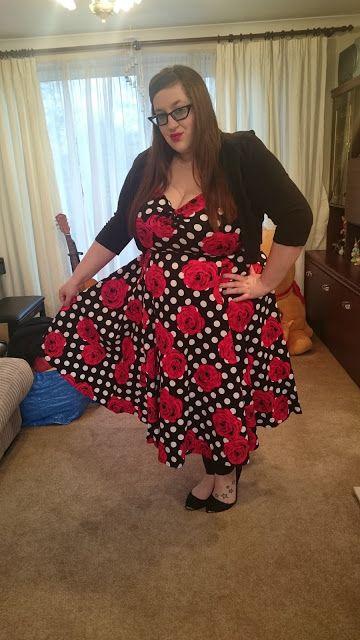 The Dolores has become a firm favourite of mine with my collection expanding quite rapidly this year (and i know it will next year as i've seen the S/S collection and there are some beauts) but this print combines my love of polka dots and floral into one stunning print.
I wear a 22 in Dolores but i can squeeze into a 20 if needed.
Banned Diner Skirt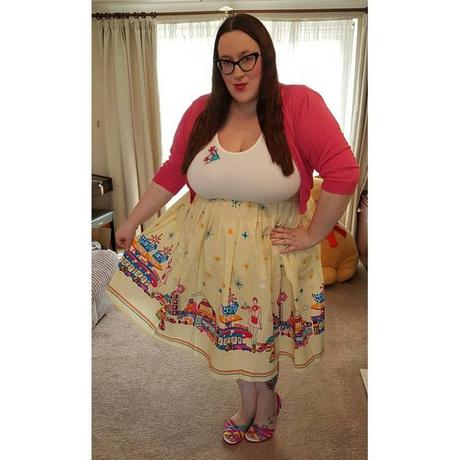 I think this outfit was a case of the whole thing coming together. Yes the print on the skirt is kitsch but the Erstwilder star brooch, the pink cardigan all pull together to make this a bright and fun.
Skirt is a 22 and i just about fit in it - i would say slightly more generous than the Hell Bunny Skirts.
ASOS Curve floral layer dress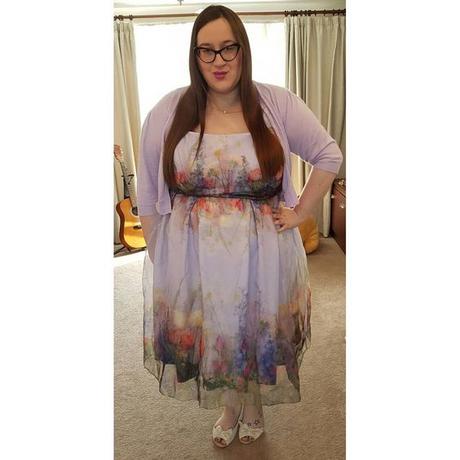 This is the dress i wore for my birthday - because if you can't go a bit OTT on your birthday, when can you? This dress is truly stunning.
Black Strappy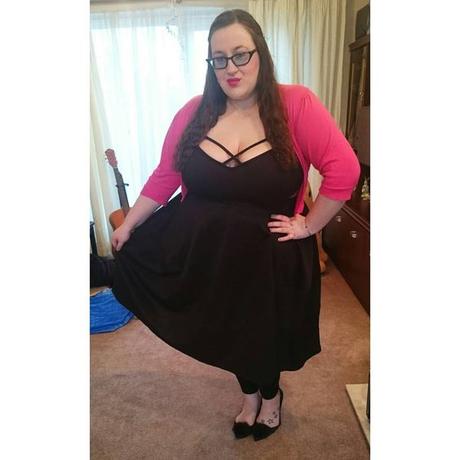 This year i started wearing a lot more seperates and this was the outfit that started it. I am normally a dress only girl, but i have discovered how fun wearinga skirt can be as you mix and match tops and change the look up more easily. This is quite a simple outfit and rare for me to wear all black but i like it for its simplicty but i still think it packs a punch.

Voodoo Vixen Rose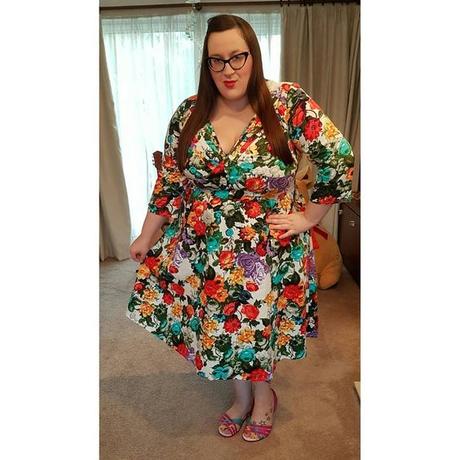 This dress is so wow with the colours, it is quite in your face. The shape is what makes this dress for me, the pleating around the bust, the 3/4 sleeves. It is a classic with a modern twist in the print.
I am wearing a 3x which is a bit big.
Lindy Bop Yvette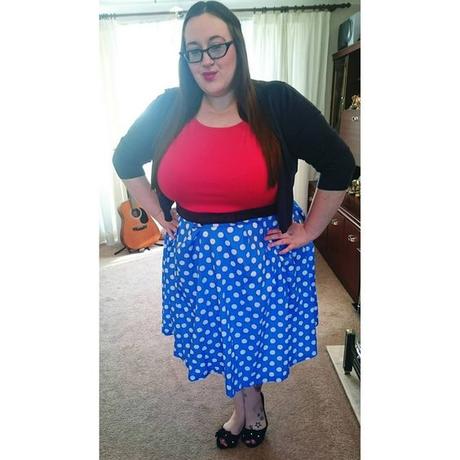 Holy waist batman. It looks tiny in this dress. No corset needed just clever colour blocking and a band, who know!
Hell Bunny Pink Plaid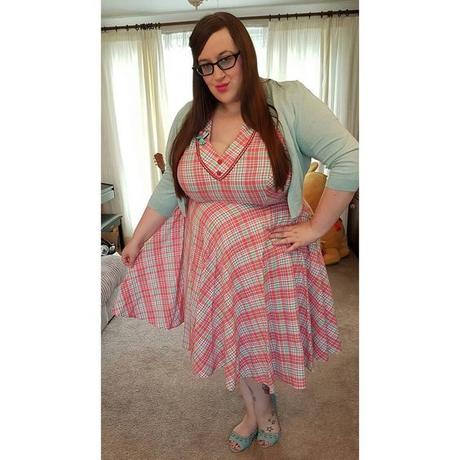 This was also the year i became obsessed with mint and pink, but i think this was my favorite outfit with the colour combo (and there were several) i feel like i'm about to run through a meadow swirling around.

Joanie Clothing Lippy Lips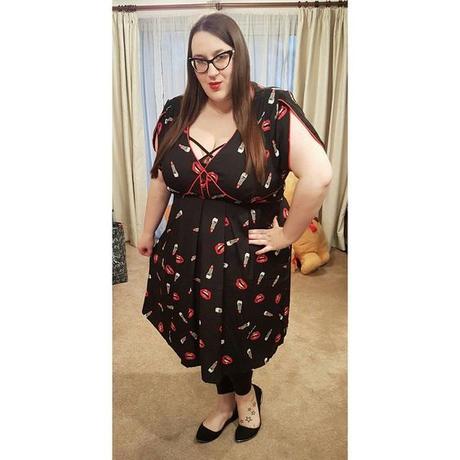 Joanie Clothing only came into my life in the last few months of 2016 but it was a very pleasant discovery, they have some great dresses up to a 26 (some up to a 22) and this was my favourite purchase. Who doesn't love a lip print? This had added lipstick as well. The tulip sleeves are divine. Add a caged crop top and the look is perfect.
I would advise sizing up one size, unless it is a jersey material.
Voodoo Vixen Betsy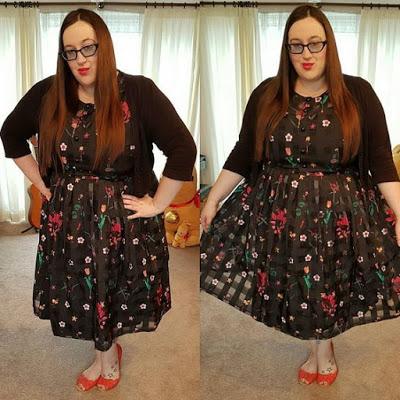 Another Voodoo Vixen beauty. This dress with it's semi-transparent checkered fabric with floral motif just struck a chord with me and i had to have it. It is understated but leaves me feeling fabulous.
Hell Bunny Hermeline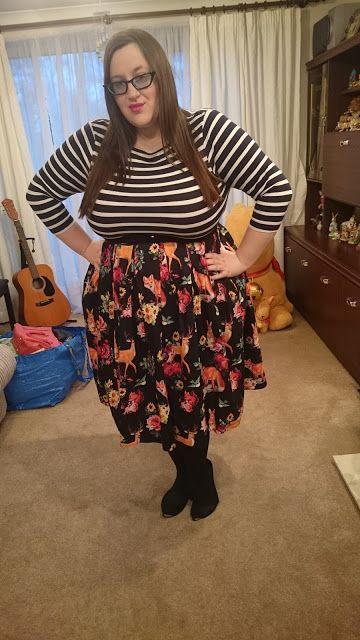 Another foray into separates and going for some pattern clashing. A skirt with foxes and deer's was always going to be popular with me.
I am wearing a 22 skirt and it a little tight, i don't find Hell Bunny skirts to be very generous.
Pie Dress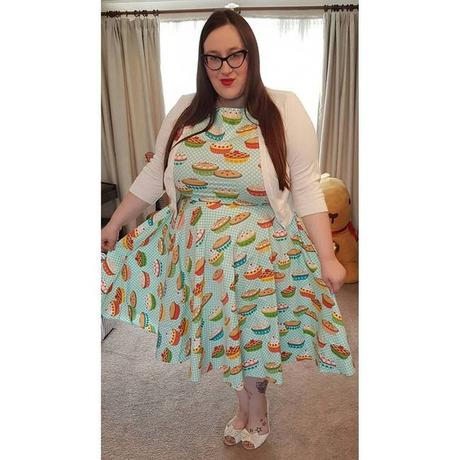 This dress is so just so cute and fun how could i now include it in a round up of my favourite outfits? It just makes me smile. I was so happy to find it in my favourite hepburn style.
Lindy Bop Clio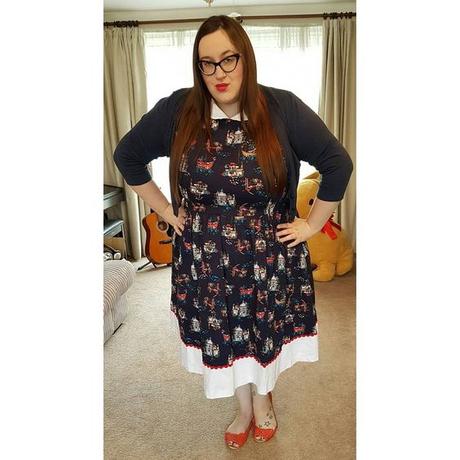 I don't know why i like this outfit so much, i think i might just like the photo as i look pretty good in it. The dress is pretty though with its peter pan collar and boarder with red piping. And my hair was actually behaving!
The photo that broke the internet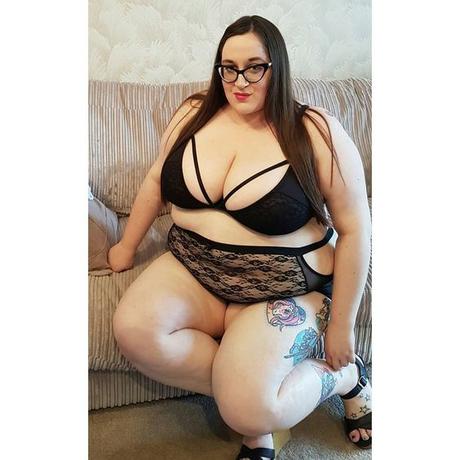 Ok it didn't really break the internet, but it was my Kim K moment, this photo became the tumblr login in page picture, was my most liked, shared and commented on photo of 2016. I never thought i would share a photo of my body sitting down, here is what i captioned the photo when i posted it "We need visibility into what plus size bodies really look like. We hardly ever see them sitting down, when you can't suck in your tummy and you get rolls for day's. And those roll's are ok, they don't make you a failure. Embrace them. 💗 them."