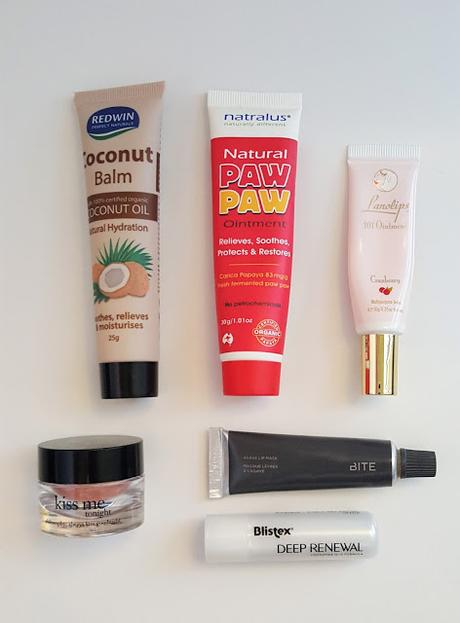 Redwin Coconut balm - Coconut always makes me think of happy times and summer, which is one of the reasons I love my coconut balm. Out of all my night time balms this is the lightest, however despite that it's still very hydrating. The texture is lovely, it smells amazing and it keeps my lips soft and s

mooth.
Natralus Paw Paw

b

alm - It's rare that I'm found without a tube of paw paw in my

possession

, I carry it around in my handbag to deal with bumps, scrapes, nappy rash, dry lips etc. I particularly love the Natralus paw paw balm, it smells and tastes good, has a great smooth texture and doesn't get lumpy or oily. As a night time balm it's wonderful, it keeps my lips happy and it's thick enough that I can still feel it on my lips the next

day.
Lanolips 101 Ointment - Lanolips will always a staple in my lip balm arsenal. I love the versatility of the 101 ointment, it has so many uses (101 in fact). I'm obsessed with the limited edition cranberry ointment they released for christmas and have been using it non stop. As a night balm this works wonders. I apply a really thick layer if my lips are particularly dry and a thin layer when they aren't. 
Philosophy Kiss Me Tonight - Another staple in my routine is Philosophy's Kiss Me Tonight balm. As you'd expect for a night time balm, it's thick and deeply hydrating. My pot has little specks throughout the balm that disolve when I rub the balm into my lips. I'm not sure if it's supposed to be like that

? 
Bite Beauty Agave Lip Mask -When I need an intense lip treatment I reach for my Agave Lip Treatment. It's a very rich, hydrating balm that works miracles on dry, parched lips. I can still feel it on my lips in the morning and I wake up with happy, hydrated lip

s. I also use this one during the day if my lips are really dry.
Blistex Deep Renewal - This is an iHerb purchase (use code YUF175 to get a discount on your first order), however it's now available here, yay! Blistex Deep Renewal is my go to night lip balm, mainly because it's easy to use. I put my lip balm on after I've finished my night time skin care routine, so my hands are usually a bit slippery from the products I put on my face and the tube means I don't struggle to get the lid off, haha. Aside from the ease of use, it is a nice balm. It has a pleasant fragrance and hydrates enough for

nightly maintenance.