Concealer is one of the products that I use every day (thanks to my dark circles). I've tried so many different ones on the search for something that hides my circles without sinking into my fine lines. Here are my favourites: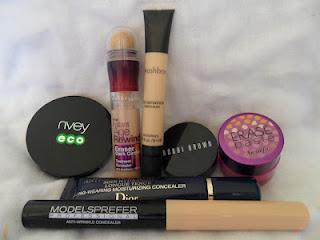 Benefit Erase Paste - I bought this after I saw on Jessica's blog that she finished a whole pot. I was amazed that someone could finish a concealer so I asked her about it and she told me it was her favourite concealer. Naturally I had to buy it. Unsurprisingly, Jessica was right. This is a great under eye concealer. It comes with a little spatula so that I don't have to use my fingers to get the product out and instantly brightens my dark circles. I get about eight hours wear before it starts to crease a little, however the creasing is minimal.
Bobbi Brown Corrector - This is a little piece of magic and something I'll never be without again. I discovered it when my friend LaLa was getting her make-up done at Bobbi Brown. The M/A used Corrector on her and I was amazed to see her dark circles disappear completely. I knew straight away that I needed it (so I bought it!) Since then I haven't stopped raving about how amazing this is. It is meant to be used under concealer but I find that I don't usually need to put concealer over the top unless my circles are really bad. Two layers completely cover my dark circles and there is no creasing! It lasts all day and I don't even need to set it with powder, however if I'm going to have a long day I do set it with a light dusting of powder. 
Bobbi Brown Creamy Concealer Kit - When my dark circles are really bad I'll use this over the top of my Corrector. It comes in a dual layered pot that has concealer in the top and setting powder in the bottom, a genius idea! As with the Corrector, this doesn't sink into my fine lines and effectively hides dark circles. It is also great for hiding dark spots and blemishes. This isn't on their website at the moment, so I hope they still make it.
Diorskin Nude - This is the first concealer I found that didn't sink into my fine lines. I was so excited to finally discover a product that didn't make me look 90 when I used it. It's had a packaging and name change but is still the same product. Diorskin Nude covers my dark circles with one layer, lasts all day and doesn't sink into my fine lines, it's everything that I want in a concealer.
Maybelline Instant Age Rewind - This is new to my concealer collection. It comes in a nifty little tube with a sponge applicator on the end which makes it super easy to apply. The coverage is great, however I do get some creasing after about six hours. I use this when I'm in a rush and don't have time to fiddle around getting my concealer application right.
Models Prefer Anti-Wrinkle -  This is a holy grail for me. It effectively covers my dark circles and lasts all day without creasing. I love the brush applicator and the fact that it's easy to get the right amount of concealer out without any wastage. Another big plus is the price, it only costs $9.59 You can read my full review here.
Nvey Eco Erase - The texture of this is unique, it's unlike anything I've used before. When I first looked at it I thought it was a powder as it's very firm, however when I used it I realised that it's a cream. I was worried that it would sink into my fine lines as it is so firm, but it doesn't. I find the best way to use this is to warm it on my finger before applying it. I tried using a brush to apply it but that didn't work very well as the product really does need to be warmed up prior to application.  Erase is budge proof. Once it's on it stays on without fading or creasing. This is the concealer I use when I know I've got a long day ahead of me.
I know a lot of people love the Laura Mercier concealer and say that it is very similar to the Bobbi Brown concealer but I disagree. I have the LM concealer and don't find it very effective. It is difficult to blend and sinks straight into my fine lines. 
And ones that I want to try next:
Clinique Even Better - This is their newest concealer and it sounds great. It contains vitamin c to help with fine lines and is specifically designed for coverage of dark circles and pigmentation.
Jane Iredale Circle Delete - The name makes me think I need this. 
Savoir Faire Concealer Pack - This is similar to the Bobbi Brown one in that it has a concealer and powder, however the difference is that it has two shades of concealer. I received the medium shade in a beauty sample box but it was way too dark for me. I'd love to try the light version, cause it felt like a lovely product.
The Maybelline and Nvey Eco concealers were sent to me for consideration. All other products I purchased myself.