Anyone who knows me well knows my propensity for visiting graveyards.  I could walk through them for hours, and often have.  I like visiting people, even those I don't know.  I often wonder about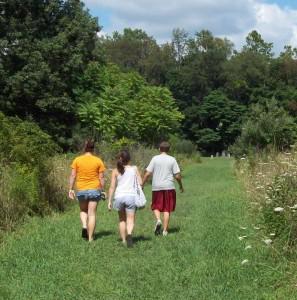 their story; I get sad in the baby section; I love reading the epitaphs.  When my kids were just wee ones I used to take them to various cemeteries all the time (I did a lot of genealogy research on my family) and now they too enjoy stopping off and meandering among the departed.  Sometimes when I'm driving by I get the strong urge to stop in and take a look.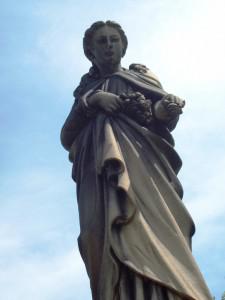 One thing we always do — is to clear off the debris and overgrowth from around headstones.  I think as a whole we all feel as if maybe no one has come to visit this person in a while, and maybe it would just be a proper act of respect to tidy up the place a bit.   I know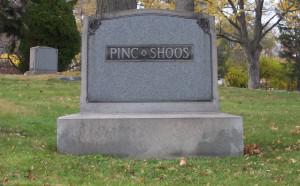 I also find myself amused by some of the names like one time there was a pretty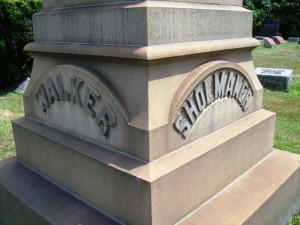 big monument with the last name "Pinc-Shoos"  I don't know, makes me chuckle.  I also love the peaceful feeling while looking up at the beautiful monuments and I think how much this person must have been revered in life.
You can also tell who the poor were who fashioned headstones with little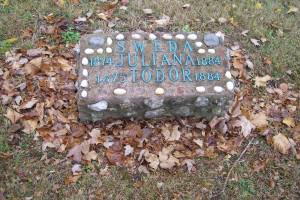 money and lots of love.  There are also cemeteries in some of the most unusual places, like this one in the middle of a shopping mall parking lot!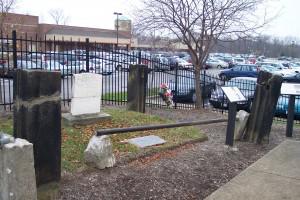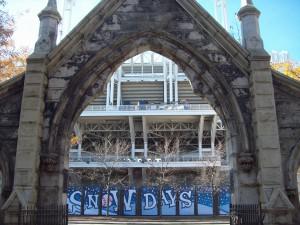 In the cemetery looking out at Progressive Field (ballpark)
Anyhow this week, my husband Shane and I were in downtown Cleveland and decided to drive into the Erie Street Cemetery, which is in the heart of the City.  I've lived here all my life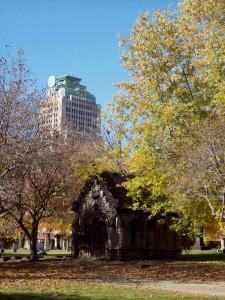 and had even worked downtown for years and had never been inside the gates.  It was a beautiful warm November day.  The trees were at peak color and the sky was clear and still.  We walked around and touched the weathered stones, many nearly 200 years old now, barely readable yet still begging to tell their story.
There are also two Native Americans buried here:  Iroquois Chief Thunderwater and the Sauk Chief, Joc-O-Sot.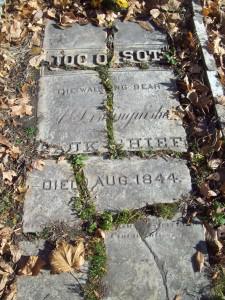 Chief Joc-O-Sat's original stone is still there but broken into pieces.  A memorial boulder and plaque have also been erected to keep his memory alive.  Small stones line the top of the memorial boulder and we each added one that day as well (a gesture of remembrance).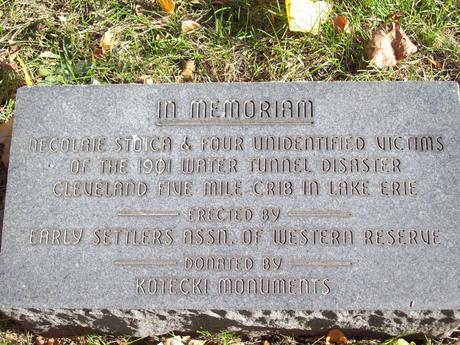 On a bit of a "weird" note, we were the only ones inside the cemetery and as we walked through we saw absolutely no one.  I bent down for a moment to take a photo of the Joc-o-sot memorial… and as I stood up a guy was standing right up against the other side of the monument.  He scared the crap out of me and I let out a gasp!  Oddly he walked along side of us at a distance the entire rest of the time we were in there… sipping intently on a Red Bull.   Shane finally said, "Maybe we should get out of here."  and we whispered to each other that he couldn't be a ghost as he was drinking Red Bull… and if he'd have been drinking "sitting bull" we would have freaked out.
You can learn a lot about the history of a town from walking through a cemetery.  When epidemics wiped out large populations, and tragic events impacted the area.  One family here was very proud that they stayed during the time fever and illness hit while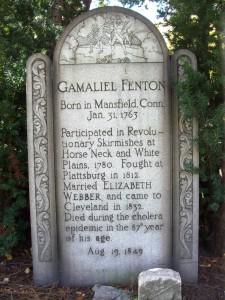 others fled and memorialized it on their family plot.  We learn who lived there and where they came from, and how people lived.  It's all there… forever etched in stone.