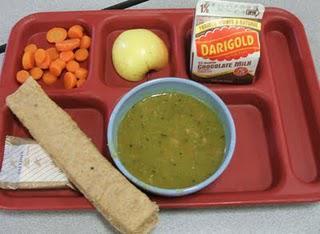 Just posted on the
IFIC Food Insight blog
... my invitation to take Jamie Oliver to lunch in Gallatin Gateway, Montana. Love to hear what you think ...
My Fantasy (School) Lunch with Jamie Oliver
I would love to have lunch with Jamie Oliver. He's charming, witty, and we have so much in common – fresh food prepared from scratch, children's health, and serving the best possible food in schools. I've read that he has had a "tough time" with the second season of his U.S. TV series since "[Nothing] that was planned has come off" (New York Daily News, March 9, 2011).
For some R-and-R and an incredible lunch, I'd like to invite Jamie to join me in Gallatin Gateway just south of Bozeman, Montana – where the blue ribbon trout stream that starred in "A River Runs Through It" will be a short walk from our table. We could enjoy some early morning catch-and-release – and then join Chef Jason Moore and his assistant Bobbi Jo for lunch at the Gallatin Gateway School. We'd have to share our table with ten or twelve exuberant students, but I know that Jamie loves to eat good food with kids.
Even with spectacular fly-fishing, you may wonder why I would take Jamie Oliver to lunch a K-8 school with only 180 students in a tiny Montana town? It's quite simple: Gallatin Gateway epitomizes the school lunch revolution that is taking place from coast to coast – without the fanfare or food fights of a TV "reality" show. I featured Gallatin Gateway School for a full-week on School Meals That Rock for many reasons – most importantly because the students love to eat their delicious and nutritious meals.
During a recent cafeteria visit, my first clue that I was in an exceptional school was when the health teacher brought in a group of kindergarteners to smell what was cooking for lunch. The second was when two students (4th grade girl and 3rd grade boy) told me that their favorite school lunch was SPLIT PEA SOUP. The final, best tasting clue was when I took a bite of the whole-grain, cranberry-orange roll on my tray.
The great news about school meals is that Gallatin Gateway is just one tiny example of the delicious, nutrient-rich revolution that is taking place across the country. Hundreds of thousands of "lunch ladies" and gentlemen work miracles in school districts large and small every day. They prepare and serve meals that are often the best food that at-risk children get to eat during the day.
School meals are required to meet strict guidelines for food safety, address food allergies, and meet USDA nutrition standards. And, they do all of this for average reimbursements rates of only about $1.60 for breakfast and $2.75 for lunch, which must cover food, labor, supplies, and equipment costs. For dozens of additional examples of the everyday miracles in school nutrition programs, visit Tray Talk and School Meals That Rock.
So, Jamie, please come to lunch with me in Montana. If we pick the right day, we can enjoy a little fishing – and then treat ourselves to the healthiest lunch in town: some of that famous Split Pea Soup with a homemade whole-grain breadstick, steamed carrots, an apple, and 1% chocolate milk.
Yes, Jamie, I do believe that low-fat chocolate milk (from Northwest farmer owned Dairgold) can have a place on a school lunch tray. For a minimal amount of added sugar, children get significant amounts of three out of the four nutrients of concern identified by the Dietary Guidelines for Americans: calcium, potassium, and vitamin D. (With the split pea soup and whole-grain roll, they also get plenty of fiber too!). No need to take my word on this one, just read Dr. Rachel Johnson's excellent piece on Why Jamie Oliver's battle against chocolate milk may be the wrong one.
Honestly, I do not want to live in a world without chocolate. Guessing by the number of very yummy chocolate recipes on your website, you don't either!
Dayle Hayes, MS, RD, is president of Nutrition for the Future based in Big Sky country (Billings, Montana) and Chair of the School Nutrition Services Dietetic Practice Group of the American Dietetic Association.