Continued from Part 3 http://earth-sea-mama.blogspot.com/2012/02/my-experience-at-sears-portrait-studio_10.html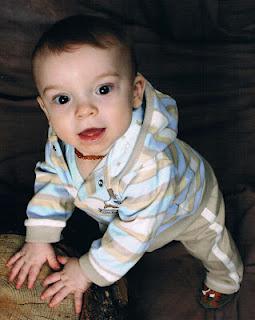 People probably think I am a little crazy for having so many photos taken of Baby F at Sears Portrait Studio LOL But these photos only cost us $9.99 for 35 prints so it was a good deal and something fun for us to do. The photos turned out great but I was sad I could not purchase digital copies of the photos unless I paid for the $200 package.
This trip to Sears Portrait Studio was pretty uneventful the service was not bad but it was not amazing either...the photographer only got 2 photos that I liked out of 20 or so that she took. She was trying to sell me some cheesy looking edits with ugly text and colors with sayings like "Thank heavens for little boys." ...maybe some people are into that but to me they just made the photos look cheap.
One thing that did bother me about this particular photo shoot was that I told her when we went in that I just wanted some cute shots of Baby F in his Peter Rabbit outfit that my Mother bought him for Christmas. After she had taken a few photos of him in his outfit she suggested "Now we can take his clothes off!" WOW... maybe some people don't think this is a big deal but I really don't feel comfortable having nude photos of our Son taken at Sears. Baby F has an umbilical hernia and it is really not very cute. I have plenty of photos that I have taken myself of Baby F just wearing a diaper and even some naked bath tub shots but I really don't need or want professional nude photos of our Son. I told the photographer I would rather leave his clothes on.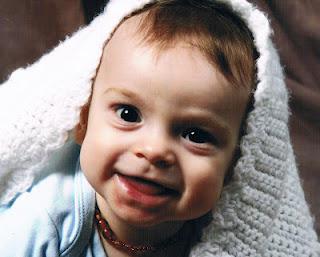 If I remember correctly during a previous photo shoot at Sears Portrait Studio the same Photographer also suggested taking all his clothes off. To me this is just weird and not appropriate for her to even suggest this...If I had asked about naked baby photos then that's different.
Since this photo shoot I have returned to Sears Portrait to use a coupon for a free session an 8x10 print and the photographer that suggested we take the nude photos is no longer working there. I am waiting for those photos to come in and when I pick them up I will write a review of our experience with the new photographer.
Check out part 5 here http://earth-sea-mama.blogspot.com/2012/03/my-experience-at-sears-portrait-studio_14.html