With eHarmony offering free communication this holiday weekend I thought I would share my experience using it. 
Our world has come a long way when it comes to this once scandalous way of getting a date.  Some still believe that finding love online is disreputable while others are stepping outside the box, taking the plunge, and venturing into the arena of online dating.
And in spite of my own apprehensions, my curiosity got the best of me.  I tried it for myself and as you can see, I support it.  There are some online dating sites that can be impersonal with little opportunity for a real connection. But that doesn't mean that all dating sites should be lumped into this category.
So what can I share from my experience in case you wonder if making an online connection may work for you?
Searching within Christian niche dating sites worked best for me, but still you have to look deep at a person's relationship with God.  There are many who are religious but still have not found their way to true salvation with God.  It is not too different from meeting someone at church.  Just because they sit in the pews every Sunday does not testify to their knowledge of God.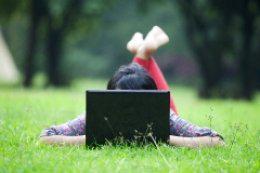 Online dating sites gave me an opportunity to make connections that otherwise would never have happened.  My initial perspective was to join a site and fall in love.  After all it is happening more and more all of the time.  But after some time I broadened my outlook.  I was meeting wonderful men of God but not making a love connection.  That may seem frustrating, but God had another plan for me.  Although we were not making love connections, I gained spiritual and true friendships.  These friendships birthed and enhanced my ministry.  You never know where the blessings of God will come from.
Yes, I recognize that when you are single, friendships are not always the priority.  However, as a single person, fellowship is consequently good!  You never know how connecting and fellowship will work in your favor.  You may meet someone, who is cousins with someone that used to know someone, who is an uncle to someone that is the one that God kept for YOU!  Or yet, you could meet someone online and fall in love instantly.  Ultimately, let God write your love story.
eHarmony Free Communication Weekend! This Weekend Only May 25th – 28th! Try For FREE!
I list eHarmony as one of my favorites because of its level of privacy.  Since I was a little shy about this process, eHarmony's system of meeting someone made it comfortable for me.  At that time the cost was on the high end but it is worth every penny.  And because of eHarmony's price points, I felt assured that I was meeting individuals who were serious about making a long term and loving connection. 
You do not have to surf through thousands of pictures and profiles.  There are no sophomoric winks or pokes.  Members complete a questionnaire that reveals more than just your hobbies, race, age, and gender.   eHarmony matches you with individuals that are compatible with your core values, belief system, and more. 
Members are also able to move communication along with others at their own pace.  eHarmony allows its users to keep certain information private in the beginning stages of communication.  Just like meeting someone offline, you can disclose details about your life as you feel comfortable.
If you are unsure how to begin, eHarmony assists with this too!  The site provides several thought provoking questions to ask or you can ask your own.  When you are ready, you can move to open communication and exchange extensive email conversations until you are ready to move forward again.   At any time if a match is not going so well, you can kindly close communication with that individual.
Are there precautions you must take?  Yes.  Even if you are using a secure dating Christian site, you have to stay on guard for the bad guys & gals that mean you no good.  Con artist exist online and offline.  Protect yourself and be as cautious as you would if you were allowing someone new to come into your home. 
Always seek God about everything.  Online dating may not be for everyone based on how one is lead in prayer.  Always pray.
Remember, it is okay if things are not working out the way you would like.  Understand that you are taking action in networking, connecting, and meeting people.  God still has the final say and according to His sovereign will, the time will come when it is right.  No different than offline connecting, it seems to work the same as old fashioned dating. It takes patience, work, and time.
I have posted the link below so that you may take advantage of eHarmony's FREE communication weekend!
eHarmony Free Communication Weekend! This Weekend Only May 25th – 28th! Try For FREE!