Did you ever think about how you would react if you ever came face to face with the person or persons you have admired for so long?
This first U2 concert I went to was during  the Zoo TV tour. I was transformed that night by the spectacle of this multi media show. I really liked the music before, but seeing Bono work the audience that night was mind blowing. Think what you will of him, but he has worked hard to lobby for causes of those in the world that have little voice to influence the influential in the world. Not only that-but Bono along with U2's founder Larry, bassist and residential "cool guy" Adam, and one of the best and most original guitar players in the world, Edge, make music that speaks to me.
So, I was determined to meet Bono during one of the two chances I'd have this tour.  My goal was a hug or picture with him, but if by chance he was signing I had it in my head that I wanted him to sign my shoulder and I would have that signature tattooed!  The best way to get his chance was to be there when they arrived at the United Center late afternoon. 
Sunday June 28th turned out special in many ways.  
Waiting around all afternoon for your favorite band to arrive proved fun in many ways.  I do have to say the fellow U2 fans around us were incredibly nice!  We sat around all afternoon sharing stories about U2. It was great  being around people who have a common bond with you. Meeting people from all over the world, meeting couples who met through the common bond of being U2 fans, meeting college age, older people, and even families whose kids were going to there first concert.  In my case having my 16 year old daughter along with me and seeing how excited she was at the prospect of meeting U2 was making me feel overwhelmed with pride.
So finally after sitting around sharing stories, laughing a lot (the people we were standing with were hilarious!!), it was time to stand up and take our positions.  Somewhere in the crowd it was said that they would be signing today, so my plan of getting my shoulder signed may become reality!!! 
More waiting, finally a big black SUV with tinted windows drove in, it didn't stop. There was lots  of speculation about who was in there.  Rumor went around that it was Bono. My heart sank. Strange thing was that Brian, Bono's body guard was not sitting in front, which he usually does.  I refused to believe it was him!  
After more time passed Edge in, but didn't stop. Then another vehicle drove in at the end of the driveway. This time it stopped and out comes Brian. OMG my heart was pounding! Best thing was I was right on the barricade so this was it! My time had come!!!  There he was, he started at the end.  The incredible thing was, he took his time and signed and lisened to everyone greet him.  Megan was standing behind me and the plan was she would have whoever stopped sign my U2 map of Dublin that came with the North Side Story book from my U2.come membership renewal.  Everyone was pushing and I was plastered up against that barricade. I was trying to brace myself so the barricade would not topple over.  The crowd was relatively calm.  Meanwhile Adam came in and stopped and he started at the other end. He went through pretty fast though.  When he got to me i knew he was right in front of me but I couldn't even see him cause my face was covered with album covers and other things for him to sign.  There were so many things in front of me, that he never did sign my map. I was happy though because Andrew, who was standing next to me had a poster that the only signature he needed was Adam's So he got finally got it.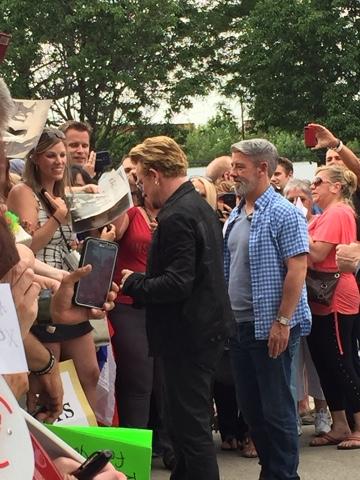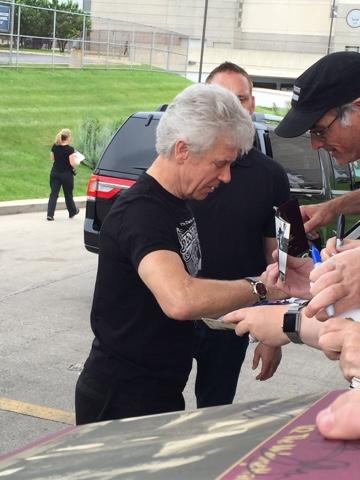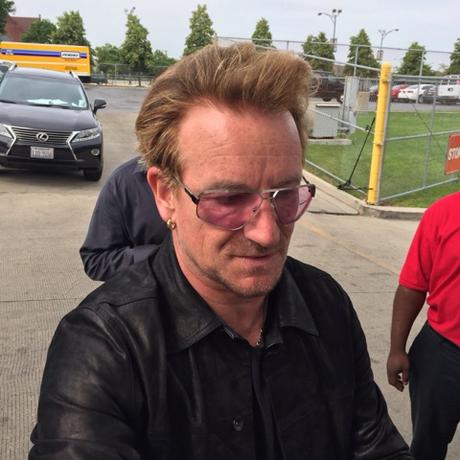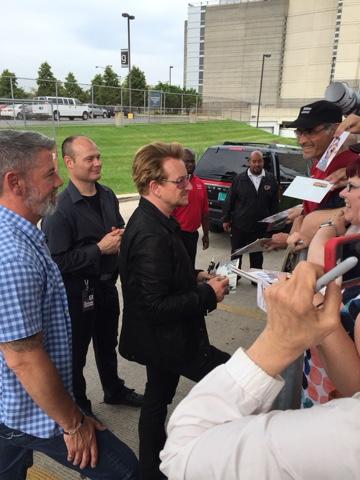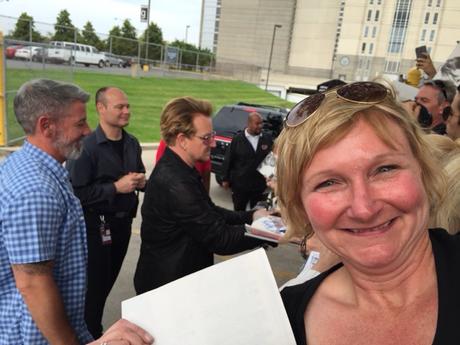 Finally Bono was getting nearer to me!! My heart was pounding! This was gonna happen!! The coolest thing I saw that day was him drawing and signing on a couple's picture of their 2 little girls who are a product of U2's music. They met through there mutual love of the band. They didn't want a signature, but he did it anyway. Very cool!!!
Then he came to me!  I asked him if he would sign my shoulder. Megan was helping me hold my sleeve back. He said "yes, what would you like me to draw?" I told him I did not care, whatever he wanted. He told me to hold still. OMG!!!!! I did and he drew the cool clover design with hearts I had seen him do twice before.  Someone from behind me told him I was gonna have it tattooed.  Everybody around me knew this was what I wanted done! My design ended up being a different variation of this clover design with his o's being hearts!!! I was actually quite calm.  People were talking to him from behind me and my 

mind was totally blank!! The only thing I could think of was to ask him if they would play "Original Of The Species" live again.  He replied "yes" I asked "tonight" and he said "no, not tonight".  He finished with my signature and that was the end of my encounter.  Dream come true!!! Later Megan told me my voice sounded so strange.  Like I was trying so hard to stay calm that it was high pitched, like she had never heard before.  She did get a tiny snipped of video while he was signing my arm.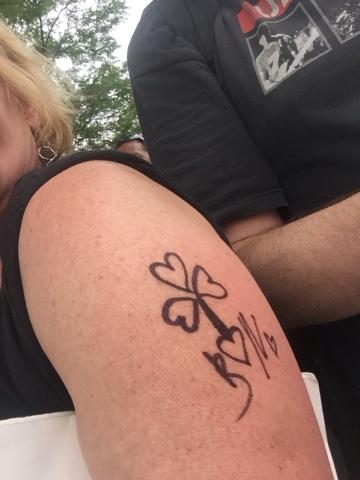 After all the excitement was over we were all standing around like show and tell and showing off all the signatures.  Megan and I found Steve and Shelly. They got to tell Bono their story too!  What a day.  I texted my hubby with a picture and a text saying "this just happened."  Of course the written text arrived before the pic and he was confused.  When he realized what just happened he was really happy for me!  I have the best hubby in the world!!! 
Then the funniest thing happened!  A couple came up to me to see my signature and said I really needed to have it done right now so it doesn't have a chance to fade.  I was in Chicago in a neighborhood I was not familiar with!!  My plan was to wait till I got home the next day to find a place to have it done.  I had no tattoos and had no idea how to go about this. 
This incredible couple Bibi, and Edgar, who had some body art themselves, were from the area and were willing to take me and Megan to a place near to get it done right away!  Bibi said they would bring us back to the UC in plenty of time for the concert later.  By this time it was about 5:00. I thought what the heck I have to do this.  They did not want me to take a chance that it would fade.  They said we would find someone to do it right.
So off we went,  now I know that you must think I was absolutely crazy to get in a car with strangers and I wouldn't recommend this, but in all honestly I felt perfectly comfortable and after all they were fellow U2 fans, there that day with the same goal in mind-to meet the band!  I could not have met 2 nicer people, who took good care of Megan and I.
So after a couple of phone calls, we found a place, Native Soul Tattoos, that was open in the Pilsen neighborhood.  This place was familiar to a friend of Bibi's so all was good.  We arrived and checked out the artists Rick's work.  After Bibi gave the okay, it was time to get my signature made permanent.  I don't know if I was high on adrenaline or what but I did not flinch or feel any pain at all!!  40 minutes and $82 dollars later I had a permanent record of this wonderful dream fulfilling day!! I will never be able to thank Bibi and Edgar enough for what they did that day!!!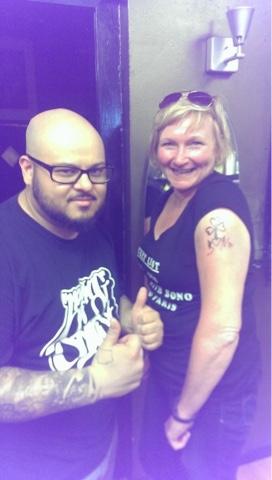 Rick did a fabulous job!!,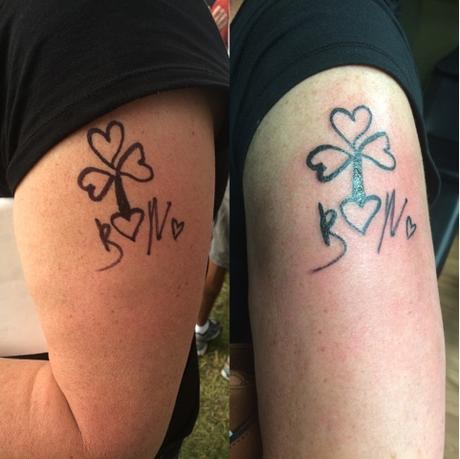 This is a split picture, the left shot is before tattoo, the right, after!  What a great job!!
In the end the only blemish to that perfect day was that my stub hub tickets would not scan when we got back and I spent 40 minutes on the phone with Stub Hub trying to get it straightened out.  I ended up getting better seats than I had and a nice little credit for the trouble.  This would have been a disaster, but honestly the day was so perfect, that somehow I knew it would work out!
So with my arm wrapped in plastic wrap, Megan and I took our seats and enjoyed the concert!  I did get some looks and I proudly told anyone that commented a brief version of the day including the 3 people outside the hotel as we were checking out the next day.
So 3 weeks later I have absolutely no regrets and would not have done it any other way!  I am so proud of my new body art and the story behind it!!  Sometimes dreams really do come true!  Don't give up on them cause I truly believe you can make them happen.