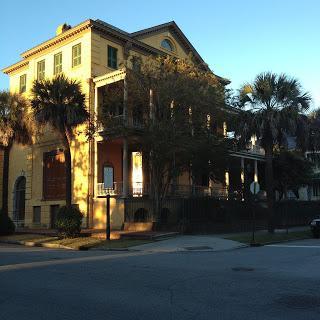 In November of 2014 when I went to Yallfest (the famous YA book festival hosted by Blue Bicycle Books in Charleston) in Charleston, South Carolina with my daughter. I left her at times to stand in line on her own for book signings while I went off and explored the city on my own.  Charleston is a beautiful city.  It reminded me of Europe in many ways.  The beautiful iron gates, cobblestone alleys, and architecture just spoke to me while I was there.
I put on my most comfy shoes and took to the streets.  We were lucky enough to have rented a villa right off of King Street listed on VRBO.  It was a perfect location.
One late afternoon I visited the Aiken-Rhett Mansion.  If you are a lover of history, this historic house is a must visit when in Charleston.  This house had been in the family for 142 years and was built in 1820.  William Aiken Sr. purchased the home in 1827 and it was a family residence until the mid twentieth century.
This is just one thing to see in Charleston.  The city is full of things to see and famous King Street is a shopping Mecca.
You can read about my Yallfest experience here.