Hey everyone!
I have been seeing so many amaaaazing products lately, some of them new, some of them older classics that ive never really got round to buying, so here it is! my wishlist...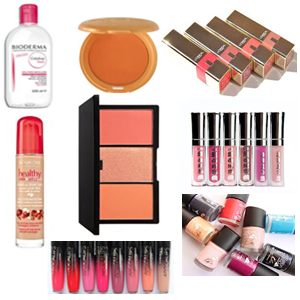 Okay so working from the top, left to right, is;-
Bioderma - I have wanted this for aaaages but you cant buy it in UK stores and ebay is super expensive to buy this.
Stila Gladiola Cream Blush - Did i ever tell you my favorite color is tangerine? well it is, and when i saw Estee from essiebutton loving this as one of her spring favourites, it has became top of my wishlist!
L'oreal Caresse Lipstick - ive seen these floating around blogs for a while now and some bloggers are hailing them as better than the revlon lip butters - i neeeeeeeeeed!
Bourjois Healthy Mix Serum Gel Foundation - I love bourjois, and i love their foundations but ive never used this one, this weekend, this bad boy is MINE!
Sleek Blush Trio in Lace - Again thank you estee for fueling my shopping addiction by showing me these! haha! i neeeeeed this in my life, i love coral and orange colours for my cheeks!
Buxom Lipglosses - Apparently these are super pigmented and non sticky, this would literally be a lifesaver for me, i dont buy lipglosses because of stickyness!
Rimmel Apocalips - I have been a big skeptic of these lipglosses, but i stand corrected! some people have told me these transfer easily and you end up with product all over your face but others have said this is a load of quiche and they are amazing!
Finally is the rimmel kate moss gel nail polishes. i already have the navy one and i looooove it so i need the whole collection. NEED!
What's in your beauty wishlist?