Changing country always involves a lot of preoccupations such as getting used to your new environment (even more when you don't understand a word of what the people are saying around you) and finding an accomodation. But despite a
tremendous
week of couchsurfing caused by
Munich
horribly satured real estate market (expect some 3 months to find the place you will call home), I wasn't actually
that
worried about not having my own place. Believe me, I was
way more
freaking out about something else.
Survival. That really is the word describing the best how I feel each time I am travelling, be it for a short or a long period. Actually, moving to Germany is the best way for me to introduce you to my LBD, my new section dedicated to my experience as a black person. LBD could stand for this timeless fashion item that almost every girl owns : the Little Black Dress. But it's not, instead this acronym will stand for my Little Black Diary. Since Incognito is a fashion blog the name of the section was obviously inspired by this piece of clothing, but yet you all know I am all about culture and sharing my experiences with you hence the idea of a black diary that could refer to my skin color as well as to a good Moleskine. 
At the risk of being irrelevant let's put this 70's version of myself all pampered before killing all the glamour and going through the reality of my LBD (or how to put an irrelevant picture in order to make an article more entertaining)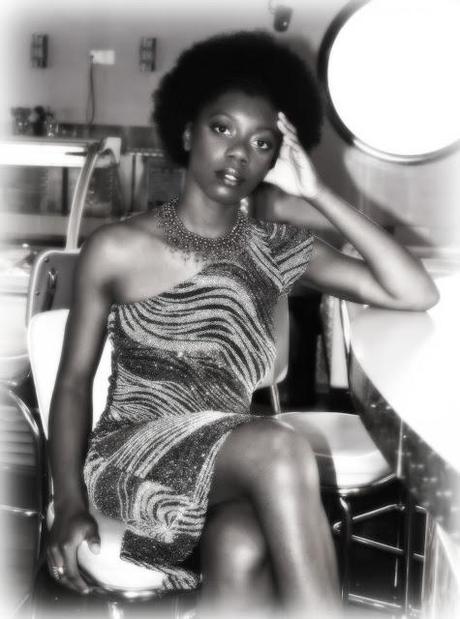 Picture by Virginie Matheron
So what the fact of moving to another country has to do with my being black ?  Growing up in Europe doesn't mean my skin and  hair are used to winter and cold. Several reasons explain why black people are black, Mother Nature never does things casually. Amongst the many explanations, one of them is that our skin tolerate much more the sun (FYI we also are human beings so we actually tan and can get surbunt too). But since a long exposure to sun can also damage skin, african people used natural products such as shea or cocoa butter to protect their skin. So eventhough I am mostly used to cold (just meaning I am able to tolerate low temperatures) my skin and hair are not. As a matter of fact winter and autumn are the seasons during which I have to take extreme care of the both of them. 
For my skin, my daily routine consists of :
- Putting on cream on my body after I shower. If I don't do it, I'll just end up a crocodile, more clearly my skin won't only be dry but it will be SUPER ÜBER dry. The story about my skin could stop here but because of the temperate climate of Europe I also have to change cream, meaning during colder days I use a thicker one to protect me better. 
As for my hair :
- Moisturizing them when they are natural is also part of my daily routine. I do this every two days in order to avoid dirtying my pillow or everything my head is in contact with. People don't realize it but growing up as a black girl means being used to greasiness because of all the cream and oil we use (but I'll probably do a whole post on it later for you to know exactly what I mean).
- I wash my hair once a week and do a mask every two weeks. If I don't do all that not only will they look dull but they will just start falling down. So though this routine is really time consuming I still have to do it because I don't want to end bald ! 
- Before going to bed I make the ugliest braids ever in order to avoid them breakage and simply to always have them streched. 
As you can see both my hair and skin require a lot of care hence the use of particular products that cannot be found everywhere. This explains why when going abroad I am always wondering if there are shops or even areas dedicated to black people since common beauty shops and supermarkets seldom offer something for people like me. As a consequence arriving at Munich was (and still is) preoccupying. Preoccupying because I don't know the city hence my ignorance of the areas I am supposed to look for; the type of immigration I'll find, because it is not said that in every town in Europe you'll have a huge community of people belonging to your ethnicity and finally preoccupying because once finding a shop I am not sure to get the products I am used to. To some my preoccupations will feel like I am whining because I am not getting enough means to pamper myself but, from my point of view it really is a matter of survival. All these things are part of my daily routine and I surely don't do them for coquetery but really because I NEED to ! 
When I started having the idea of The LBD I was convinced my first article wouldn't be about such trivia. But now in retrospect, I am realizing that to tackle some issues trivia is needed. See I am French but the fact of being black has a huge impact on my daily life. So I thought that sharing with you pieces of my life this way would be more interesting. I don't mean to make this section for black people. On the contrary. What I want through it is to make you feel familiar with a reality that could be yours. 
Tell me if you appreciated this first article of The LBD and what are your thoughts ! You know I am always looking forward to exchange with you !