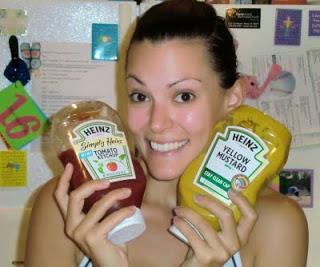 Today was a good day. I'm a little shocked by being able to type that statement. Why? Because it was day one of my carb deplete days. I didn't have my usual morning oatmeal...or my delish lunch sweet potato. Instead it was egg whites for breakfast (I throw 2 ounces of chicken in), chicken and veggies for lunch (insert mustard here) with some almonds, protein snack, protein/karbolyn post workout, fish with salad for dinner, and then my egg whites to cap off the night.
What made almost all of the above easier to swallow was my addition of a tablespoon or two of mustard. I had gotten some ground chicken from Central Market the other day. I decided to make chicken "burgers" for lunch. I added fresh garlic, garlic powder, smoked paprika, pepper, low sodium worcestershire sauce, and chopped bell pepper (part of my green peppers). Then, I molded them into perfect little patties and grilled them up on the Foreman. Since bread hasn't been on my diet in months, I used some crisp romaine leaves...and of course, topped with mustard! They were surprisingly yummy and quenched my taste for something savory and juicy.
Tonight's dinner was especially yummy with the added olive oil to my usual basalmic-only dressing. Mustard popped up again with my egg whites before bed. I added just a squirt of ketchup* and when I closed my eyes and visualized anything other than egg whites, the thought of a corn dog came to mind. I guess because I love mustard with just a hint of ketchup when I eat one. I told Shane this and he laughed saying, "hey babe, whatever gets the job done." He knows how some nights I've literally been choking them down.
Hopefully mustard will stay in my diet up until the last few days. I don't have many other options, plus I've read that it can help with burning fat! Tomorrow marks day "Sweet 16" and I'll be doing an impromptu posing sesh with Roland Jell at Gold's. I met him a few weeks back when I found out that he was emceeing for Europa. Good person to know! I may have some pics to post up. Gotta get comfortable walking around in that suit! Until tomorrow, goodnight everyone!
*Heinz makes a great ketchup called "Simply Heinz". It doesn't have any high fructose corn syrup and I think tastes just a little better than the others.