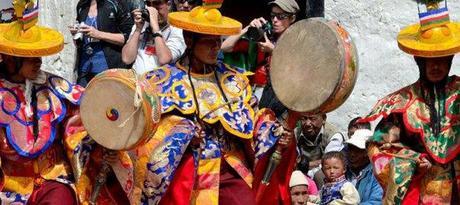 Tiji Festival Trek is Celebrate with Small on an adventure into the fabled Kingdom of Mustang in northern Nepal. Located in the Himalayas of Nepal on the Nepal - Tibet border, this miniature royal domain reveres its own king even after Nepal has rejected a national monarchy. Mustang's culture has descended in its pure form from the Red Hat sect of Tibetan Buddhism (contrasting to the Yellow Hat sect to which the Dalai Lama belongs.), and it remains one of the only spots on earth where Tibetans live according to their own unimpeded traditions.
The historical remote Mustang trek unseal the once Forbidden Kingdom of Mustang, tucked away from the rest of the world, lies just north of the main Himalayan range of Nepal. Mustang, a land where the soul of the man is still considered to be as real as the feet he walks on: a land said to be "barren as a dead deer" but where beauty and happiness abound is spite of hardship, was a part of the Tibetan Kingdom of Gungthang until 1830′s. The wall city of Lo Monthang, unofficial capital of Mustang still remains a kingdom within a kingdom. The early history to Lo Monthang is embellished in myth and legend rather than the recorded fact. Mustang has maintained its status as a separate principality until 1951. The king of Lo Monthang still retains his title and he has been given the honorary rank of Colonel in the Nepal army.
Trekking in Mustang was officially opened in 1992. It allows limited numbers of trekkers each year in order to protect and conserve the local Tibetan tradition and the fragile environment. A trek into this fabled forbidden kingdom of vast, arid valleys, eroded canyons, ochre valley, yak caravans, colourful-painted mud brick houses on the back dropped of majestic mountain of Nilgiri, Tukche, Annapurna and Dhaulagiri makes your medieval walled kingdom Mustang trekking a very especial one.
Nepal Visitors regularly organizes trek to the Himalayan Kingdom of Mustang targeting TIJI festival a three days long ritual known as" The chasing of the Demons", one of the most important festival of the region. Over the tiji festival time monks dressed in elaborate costumes and masks perform dances and rituals that are supposed to drive away evil spirits. Dressed in their finery, people from all over Mustang gather in Lo Monthang to celebrate the Tiji Festival Trek
Itinerary
06 May 2015: Day 1: Arrival in Kathmandu 1340m. Overnight at Hotel
07 May 2015: Day 2: Full day Sightseeing tour around Kathmandu valley 1340m. Overnight at Hotel
08 May 2015: Day 3: Fly from Kathmandu to Pokhara 820m/6-7 hours with tourist bus,
09 May 2015: Day 4: Fly from Pokhara to Jomsom 2720m and trek to Kagbeni 2800m/3-4 hours
10 May 2015: Day 5: Trek from Kagbeni to Tsaile 3100m/5-6 hours. Overnight at Lodge
11 May 2015: Day 6: Trek from Tsaile to Ghiling 3570m/6-7 hours via Ranchung Cave Monastery. Overnight at Lodge
12 May 2015: Day 7: Trek from Ghiling to Drakmar 3450m/5-6 hours. Overnight at Lodge
13 May 2015: Day 8: Trek from Drakmar to Lo-Manthang 3840m/7-8 hours via Ghar Gompa and Marang-La Pass.
Tenchi Festival Start
14 May 2015: Day 9: First day bserve Tenji Festival Lo-Manthang 3840m. Overnight at Lodge
15 May 2015: Day 10: Second day observe Tenji Festival Lo-Manthang 3840m. Overnight at Lodge
16 May 2015: Day 11: Final observe Tenji Festival Lo-Manthang 3840m. Overnight at Lodge
Tenchi Festival End
17 May 2015: Day 12: Trek from Lo-Manthang to Tsarang 3560m/3-4 hours. Overnight at Lodge
18 May 2015: Day 13: Trek from Tsarang to Syangmochen 3500m/6-7 hours. Overnight at Lodge
19 May 2015: Day 14: Trek from Syangmochen to Chhusang 2980m/5-6 hours. Overnight at Lodge
20 May 2015: Day 15: Trek from Chhusang to Jomsom 2720m/6-7 hours. Overnight at Lodge
21 May 2015: Day 16: Fly from Jomsom to Pokhara 820m and rest. Overnight at hotel
22 May 2015: Day 17: Fly back Pokhara to Kathmandu 1340m/6-7 hours. Overnight at Hotel
23 May 2015: Day 18: Final departure from Kathmandu
Cost Detail:
* 2 persons =USD 2099
* 4-8 persons=USD 1899
* 9-12 persons=USD 1699
* Single Supplement Charge will be 15% on the above cost.
Cost Include
* 4 nights hotel in Kathmandu 3 star bed & breakfast
* 1 night hotel in Pokhara Bed and breakfast.
* Flight Kathmandu - Pokhara - Jomsom - Pokhara - Kathmandu.
* Fully camping trek with meal, guide, sherpas, porters, cook etc.
* 2 men tent, dining tent, table & seating chair, toilet tent .
* Necessary Kitchen equipment
* Annapurna Conservation fee
* Transportation of staff & equipment
* Staff flight Pokhara - Jomsom - Pokhara
* Cargo for trekking goods from Pokhara - Jomsom -Pokhara
* Domestic airport tax
* Insurance & clothing for trekking staff.
* Air port /hotel/airport transfer
* 1 full day sightseeing in Kathmandu
* Kathmandu - Pokhara Deluxe Air-Condition bus
* last day good bye dinner in Kathmandu with official staff.
* Our Service Charge and all government taxes
Cost Exclude
* All expenses of personal nature
* Personal travel insurance
* Lunch and dinner in Kathmandu & Pokhara
* Helicopter rescue incase needed
* Medicine as well as in trekking
* International airport taxes
* Tips for staff
* Laundry, phone calls
* Bar bills, Mineral water, Sweety, candy
For More information:
Mustang Trekking
P.O. Box :19760, Lazimpat, Kathmandu, Nepal.
Tel :+977-1-4002108, +9779841258665 (M)
E-mail: [email protected]
Website: http://www.mustangtrekkinginnepal.com/