After an entertaining international break, we're back into the thick of the English Premier League season.  It's true there is no "blockbuster" match, no "clash of the giants", but there are still some intriguing contests.  What's the most must-see match of the weekend?  
West Ham v. Manchester United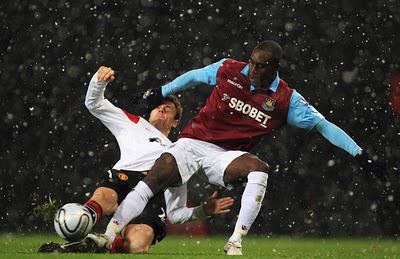 The good news about this broadcast is it's on ESPN2.  The bad news is it's at 7:45am on Saturday morning.  That's certainly a pain in the ass, but nothing a mid-afternoon nap can't cure.  Sure West Ham is technically in the relegation battle, but if the season were only the past six games they would be ahead of their weekend's counterpart.  They are not playing like a relegation squad, they are playing like a giant killer.  And even better news for the Hammers: United have been in dreadful form, luckily skating by their last opponents, Bolton, after only playing 10 minutes of football.  That won't get them by West Ham.  Demba Ba and company will be looking to take advantage of United's injury-depleted defense for a goal or two after their scoreless draw against Tottenham two weeks prior.  Earlier in the year, Manchester United suffered their worst loss of the season to West Ham as they were evicted from the Carling Cup 4-0.
What United needs to do to win: 
Play football.  United have not played well in their last three league matches.  Hopefully for the Devils the international break didn't hinder any would-be-momentum from their win over Bolton.  The (what is sure to be a patch work) defense needs to be constantly aware of Demba Ba's presence on the pitch, and they need to control the ball in their attacking third of the pitch.
How West Ham can win:
Eliminate the cross.  West Ham, admittedly, should have lost to Spurs.  The frame of the goal should have earned man-of-the-match honors two weeks ago.  Their biggest problem in
that
match was Spurs' service.  They were able to snap the ball into the box at will.  If West Ham can block the cross rather than defend the ball after it's in the box, they will have an excellent chance of walking out the victor.  
Honorable Mention: Everton v. Aston Villa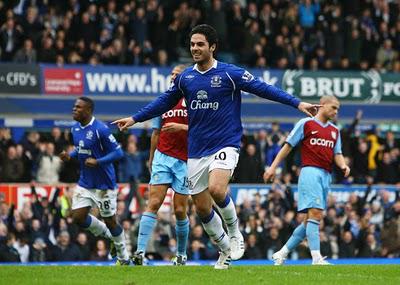 This is a virtual must-not-lose for the Villans.  They have been the fourth-worst team in the league over the last six matches, earning just five points out of a possible 18 (Everton have earned 13 over that same stretch).  They are in dreadful form and dreadful spirits, lately admitting their relegation worries publicly.  They are just one point outside of the drop zone with six games remaining.  Every point is vital, so earning at list one from this match is a must.  Not much needs to be said about Everton.  They have been absolutely stellar lately, playing arguably the best football in the league.  It will be an intense match-up between swagger and desperation to be contested on Saturday at 10:00am.