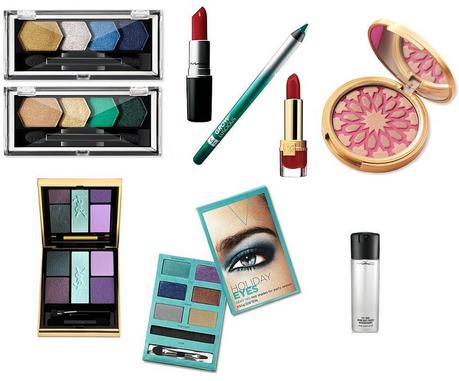 Oh, fall.  It's that time of year when we have toadmit to ourselves that the sunny days are over, which means no more sun-kissedcheeks, no more glowing skin and no more tan…  But fall does bring us a new array of colors, those lovely earthytones that will transition us to the deeper tones of winter.
Along with thesetraditional earthy shades, Fall 2011 also brings us jewel tones.  These tones are a reflection of the runwaycollections we saw last year, in colors like emerald, amethyst, topaz, andsapphire… just to name a few.  Allthose shades will have a wonderful companion color, namely Mr. Gold.
This fall is all aboutglamour, jewel tones and gold! You'll see this done by every makeup company, from YvesSaint Laurent to Maybelline.
Yves Saint Laurent released their Ombres 5Lumieres palette in Midnight Garden,which includes shades like purple, light turquoise, and black.  Plus famous makeup artist CharlotteWiller worked with Maybelline to create two eye shadow palettesinspired by this color trend: SapphireStylist and Green with Fashion.  Both of these palettes feature Mr.Gold.
For Fall 2011, eyelinerswill be more popular than ever.  Don'tbe shy, try some new colors apart from the traditional black and brown… maybe emeraldor gold?  (Use Revlon's Grow Luscious Lash Liner in emerald or MAC'sAvenue, which is a charcoal black liner with a hint of gold pearl).  If you have more classic taste, go for adeep purple that is more discrete and similar to a dark brown.  MAC's Diversionis a dark plum gel eyeliner and will work wonders.  To apply the liner, start with a thin line and, if you feelcomfortable, make the line a bit thicker. 
As for lipstick,keep the color subtle when pairing with heavy eye makeup.  Nude colors will go perfectly withthose jewel-toned eyes. If you instead want to put the emphasis on your lips,try a ruby red lipstick like Russian Redby MAC or Red Velvet by Estée Lauder.  MAC's Russian Red is my favorite matte lipstick and willlast all day long.
And let's not forgetabout the cheeks.  You'll want tokeep using the pinky blush you used during summertime.  One great blush is Hypnotic Beauty Luminous Blush by Victoria's Secret.  This pinkwill give you a little bit of color to go with your fall tones. 
Extra tip: Fallweather can really dry out your skin. So my solution is to use Fix +by MAC.  I absolutely can't livewithout it, even during the summer! This product locks in the moisture in your skin, helping you avoiddehydration and lines.  This liquidis a blend of vitamins, minerals, green tea, chamomile and cucumber… all toppedwith a pleasant scent!  All youneed to do is spray it on your face before you apply your makeup.  Or if you want your makeup to lastlonger, try spraying it after you apply your makeup for the day.
Photography: YvesSaint Laurent, Estée Lauder,and Google Images
Author: JennyWendlandt
Editor: JennyPerusek
Kiss kiss,
JW