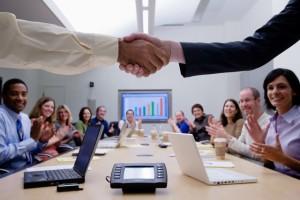 For many professionals, business trips are becoming the norm. Clients want face-to-face interaction, so more people are having to travel for meetings. However, it's important to stay productive and connected to your job while away from the office. Luckily, today's technology makes this not only possible, but simple to do as well. Check out how these popular apps and gadgets can actually help you make the most out of your next business trip.
GoToMeeting
Established as the "go-to" solution for virtual meetings and video conferencing, GoToMeeting offers HD-quality video, personalized meeting URLs, screen sharing and the ability to connect to meetings through mobile or desktop devices. There is also a whiteboard feature that highlights the presenter's screen. It comes with the convenient option of using international phone numbers and options to translate control settings.
Google Drive
When it comes to cloud storage platforms, Google Drive is one of your better bets. It combines cloud storage with a collaborative office suite to offer clients everything they need to be productive. It also has downloadable desktop programs to enable file syncing, and the files you create in Google Drive, as opposed to those that are uploaded, don't count toward your free 15GB of space. Paid accounts allow users the choice of upgrading to 100MB or even 1TB.
TripIt
This is an "all-in-one travel organizer" that helps business travelers plans their entire trip. With TripIt, you can have all your itineraries in one place by forwarding your travel confirmation emails, such as airline, hotel, restaurant and even rental reservations, to [email protected] You can access them at any time and from any device, check the weather, get directions and even sync your trip plans with Outlook or Google Calendar.
Linx Fusion – ANC Headphones
Whether you're traveling by train or working in a crowded coffee house, your business trip will be a bit more relaxing when you can listen to your favorite podcast or recorded meeting without many outside distractions. Using Able Planet Linx Fusion headphones allows amazing sounds while blocking other noises. They reduce the risk of ear and hearing damage by having the volume 70 decibels lower than other headphones.
Samsung Galaxy NotePro
Can't leave home without a good tablet, and the Samsung Galaxy NotePRO fits that bill. Featuring one of the best mobile processors, a Snapdragon 800 processor, this tablet has one of the world's first 12.2-inch WQXGA widescreen displays, with a 16:10, crystal clear resolution with four million pixels. This versatile screen allows you to flip through presentations and review detailed work documents with ease. The advantages to using it instead of a laptop on a business trip include better portability and the convenience of more business tools. As for security, many major online security vendors have mobile versions of their products, so your tablet is just as safe as your laptop.
Mophie Juice Pack|
Keep your smartphone's battery charged during your business trip with one of various Mophie Juice Packs. Users can keep their phone batteries charged by concealing them in soft-touch, smart and rechargeable battery cases. A Mophie Juice Pack increases battery life up to eight hours for talk time and seven hours for web browsing. They are available for iPhone, Samsung or HTC devices.
Having to step out of the office for business doesn't mean you're stepping away from being productive. These apps and gadgets help ensure that business runs smoothly, no matter where you are.
Guest Author: Jennifer Thayer is a freelance writer who enjoys covering everything from the hottest tech gadgets to the latest industry news. Follow her on Twitter to see what tech coverage she shares next.
Photo from Nguyen Vu Hung (vuhung).