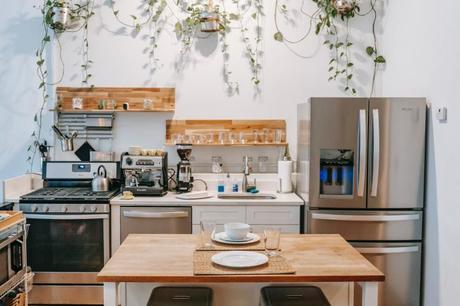 If you are planning on building an ADU, then you need to know about these must-have ADU appliances! They are sure to save you space and time while living in your tiny home.
Efficiency Kitchens
Efficiency kitchens are compact kitchen units that contain almost everything you need in one spot. They come complete with a:
You can get efficiency kitchens in a variety of sizes and options to best fit your needs. You can also supplement them with a portable-multi-use workstation island that features:
These two appliances together can create a very spacious kitchen in a small ADU unit.
Washer And Dryer Combo
Talk about an awesome space saver. A washer and dryer combo is a machine that acts as both a washer and a dryer. It can be as small as 24 inches wide and holds up to 15 pounds of laundry. Once you put the clothes in, it goes to work washing them. Then while you are off enjoying your day, it switches into a dryer to dry the clothes without you having to do a thing.
By having both appliances in one compact unit, you can save both vertical and horizontal space in your ADU, as well as the time it takes to manually switch the laundry from a washer to a dryer.
Sectional Sleeper Sofa
When trying to figure out how to decorate your granny flat, you should consider a sectional sleeper sofa for your living room. Not only will this sofa pull a room together, but it is also quite practical to have in a tiny home.
This sofa pulls out into a bed to turn your living room into a guest bedroom at night, or an awesome slumber party hangout spot. The other neat thing about this sofa is that it offers extra storage underneath one of the sections. In a home limited by storage, this is quite helpful.
You should consider complimenting your sectional sleeper sofa with a storage ottoman. These are quite popular in places that are tight for space because they offer a place to store things, a place to sit, and make your room look nice!