Last night hit with a wicked craving for chicken shawarma. So the fam loaded in the car to try the last Middle Eastern restaurant on our list. Ali Baba turned out to be some of the best food we'd eaten out in a long time.
Because there were 4 of us, we ordered family style. A meal listed as "for two" on the menu was more than enough for 4 when paired with orders of hummus, baba ganoush, and a couple of samosas.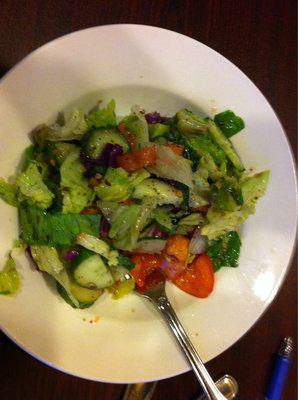 The meal came with a great house salad, the best dressing I've ever had on a salad, and lentil soup. The lentil soup was delicious with a squeeze of lemon. The bread was a non traditional pita, it was fluffy vs a flat bread. It tasted so great dipped in garlic sauce, baba or hummus.
The main entree was a variety of grilled meats, grape leaves, falafel,  and chicken shawarma served over rice. Everything was delicious. The falafel was crispy on the outside and creamy on the inside. Just the way falafel should be. The fried kibbie and kafta were also excellent. The kafta had just a hint of mint that made it stand out!
Really, I can't rave about Ali Baba enough. It stands up there with the best Middle Eastern food I've had at a restaurant. I'm relieved to have found a go to shawarma place in the Lansing area. It's been a long time of trial and error but finally we've had success!
Check out our search for delicious Middle Eastern food in the Middle of the Mitten.